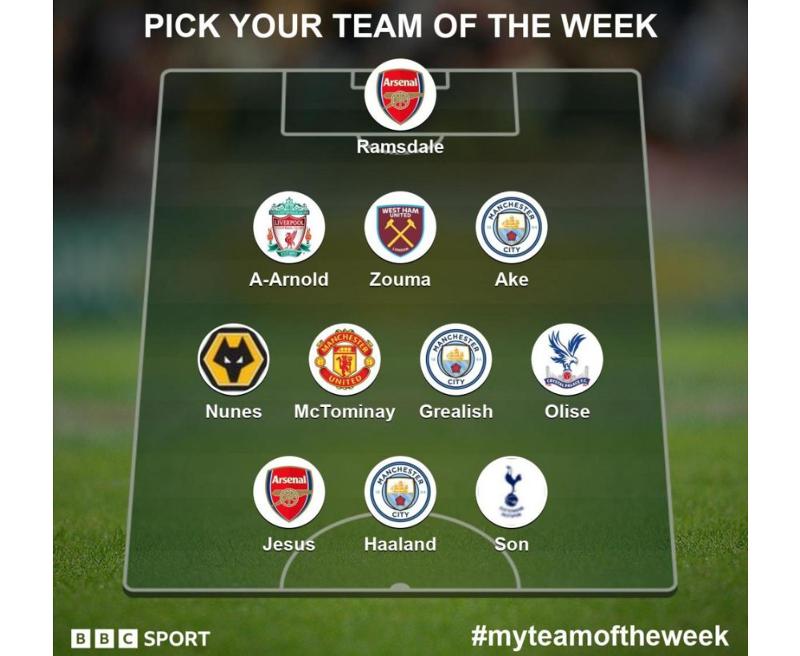 Son Heung-min of the English Premier League's (EPL) Tottenham Hotspur on April 9 was named to the BBC's "Team of the Week" after scoring his 100th league goal.
The star striker was selected as left forward under a 3-4-3 formation as announced by the BBC after the 30th round of the 2022-23 season.
Against Brighton on April 8, he scored his team's first goal in the 10th minute of the first half at Tottenham Hotspur Stadium in London in the Spurs' 2-1 win.
This was Son's seventh goal of the season and his 100th in the EPL.
His 100th EPL goal came seven years and seven months after his first on Sept. 20, 2015, against Crystal Palace. He is the 34th player and first Asian to achieve this mark.
BBC Sport commentator Garth Crooks, who picks the "Team of the Week," said, "This hasn't been one of his best seasons but his goal against an in-form Brighton was one of his best."
On Son's recent slump, he added, "Son has struggled this season partly because he spent too much time desperately trying to make it to the World Cup when injured and then, having played in the tournament, returned mentally drained."
In the April 8 article "Son Heung-min: 'Top man, top player' and the first Asian to reach 100 Premier League goals," the BBC also featured Son setting the scoring milestone.
"Son Heung-min is arguably Asian football's first global superstar – and he is now the continent's first player to hit 100 goals in the Premier League," it said.
Mentioning the thoughts of his teammates such as Harry Kane, captain of the England national team, on Son, the article said, "Since joining Tottenham Hotspur from Bayer Leverkusen in August 2015, the South Korean has blossomed into one of the world's best players, while maintaining the same humble and infectiously upbeat personality he's become famous for."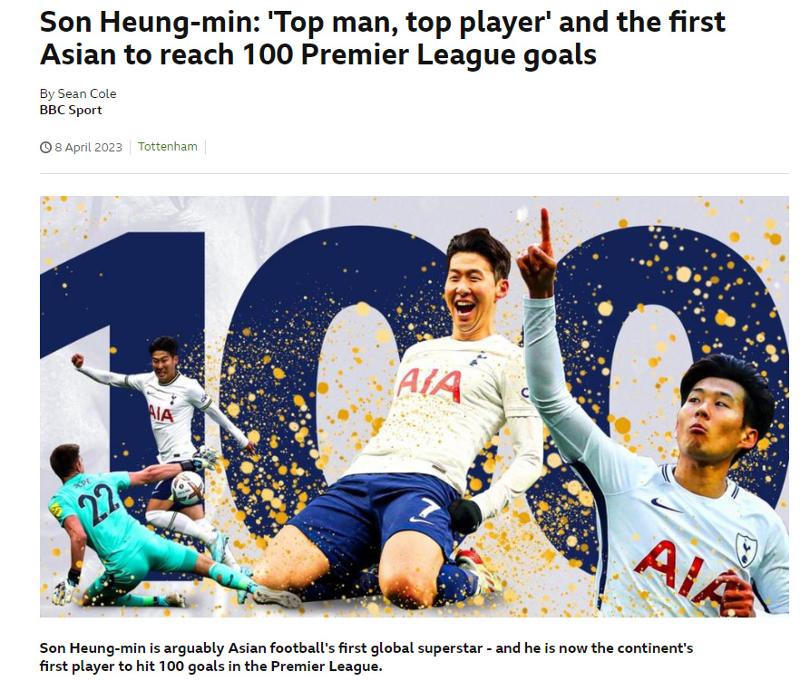 CONTACTS: arete@korea.kr
View original content to download multimedia: https://www.korea.net/NewsFocus/Sports/view?articleId=231117