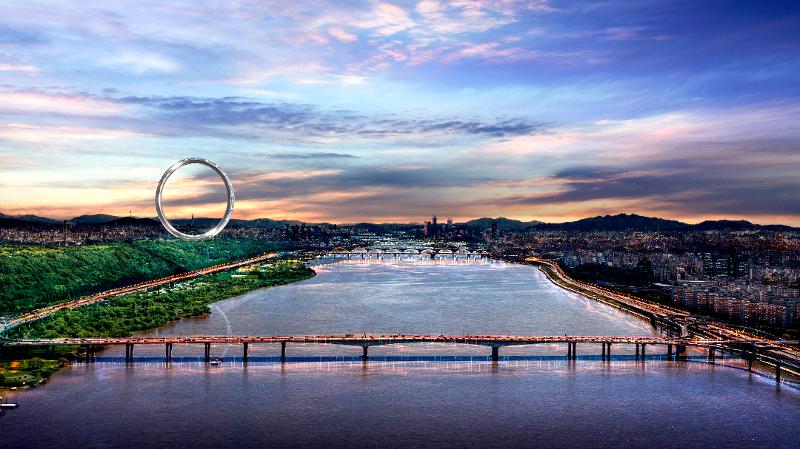 The Seoul Metropolitan Government will build a massive Ferris wheel with a diameter of 180 m called "Seoul Ring" in the Sangam-dong neighborhood of the capital's Mapo-gu District.
The city on March 8 released a blueprint featuring a bird's eye view of the forthcoming attraction and said it aims to start work on the project in 2025 for completion by 2027.
Unlike a conventional Ferris wheel with a ring shape that resembles a bicycle wheel, Seoul Ring will have a giant circular form but with no spokes in the middle.
People will ride in cabins or pods that travel on the ring's structure instead of the wheel turning.
With a diameter of 180 m, the structure will have 36 cabins each with a capacity of 25 people and move 0.25 meters per second, with one revolution to take 30 minutes.
The daily ride capacity will be 11,792 people.
Once completed, Seoul Ring will be the world's second-largest Ferris wheel after Ain Dubai (250 m) in Dubai, the United Arab Emirates.
The city said it chose as the ride's site Haneul Park, a gateway to Seoul and a symbolic entry point in the reunification era, after considering factors such as accessibility, surrounding tourism infrastructure, views, landmarks and balanced development.
It also plans to boost the ride's accessibility to public transportation through gradual expansion of green self-driving buses and installation of gondolas and inclined elevators.
"We expect Seoul Ring to produce tourism demand of over 3.5 million visitors per year to emerge as a complex cultural space popular with the public," the city government said.
CONTACTS: hayeounk8@korea.kr
View original content to download multimedia: https://www.korea.net/NewsFocus/Society/view?articleId=229817