Do you know why Wolmi Island is called Wolmi Island? It is named after its shape which resembles the tail of a half moon.
Located just roughly 1km off the coast of Incheon, Wolmi Island has made the top list of every Incheon travel bucket lists. It is not only connected to the mainland by highway, it also has very convenient transportation, owing to its location near to Seoul. Attractions in Wolmi Island are various, ranging from sightseeing to experiencing. Here I list down the main attractions in Wolmi Island.
Wolmi Island Culture Street
Culture Street refers to the multi spaces from Doodle Pillar, Meeting Square, Arts Square, Performance Square to Good Harvest Square. Also not forget about the water-friendly space with music fountain installed at the center of it and all the restaurants and cafes lining up at the side facing the sea. Imagine the view from the cafes overlooking the sea!
You could also get close to the water by going down the hydrophilic stairs to the rocking sea. There people feel the sea with bare feet and some even fish there! If you don't want to get your feet wet, it is also fun just by watching the people enjoying the water and not to mention the beautiful sunset scenery on the west coast.
The Performance Square looks like an origami crane forming an outdoor stage. As its name implies, it is a space specialized to be rent for people who want to do a performance.
If you enjoy extreme rides, Wolmi Theme Park might be your choice. Wolmi Theme Park is not as big as other famous amusement park in Seoul but the specialties of Wolmi Theme Park is that you could look far out into the ocean while screaming when riding the Viking ride. It is known to be the most thrilling Viking Ride in the country. Another famous ride in Wolmi Theme Park is Tagada Disco which is equally thrilling. If you are not into rides, watching the DJ's funny banter and the people playing is still fun!
Wolmi Island Lighthouse Road
What's more memorable than capturing a picture of yourself with the lighthouse of a sea you have visited? Walking along the light house road, looking at the calming sea and the people, and feeling the breeze are just so relaxing. The scenery is beautiful both in day and night.
There is a photo zone in the shape of a frame if you want to take a typical tourist picture!
Wolmi Sea Train
Wolmi sea train was just opened 2 year ago in 2019 but has been remained not in operation due to the current situation. It is a tourist monorail which allows you to tour around Wolmido as it circulates through Wolmi sea station, Wolmi Park station, Wolmi cultural street station, and Musuem station, covering a total travel distance of approximately 6km.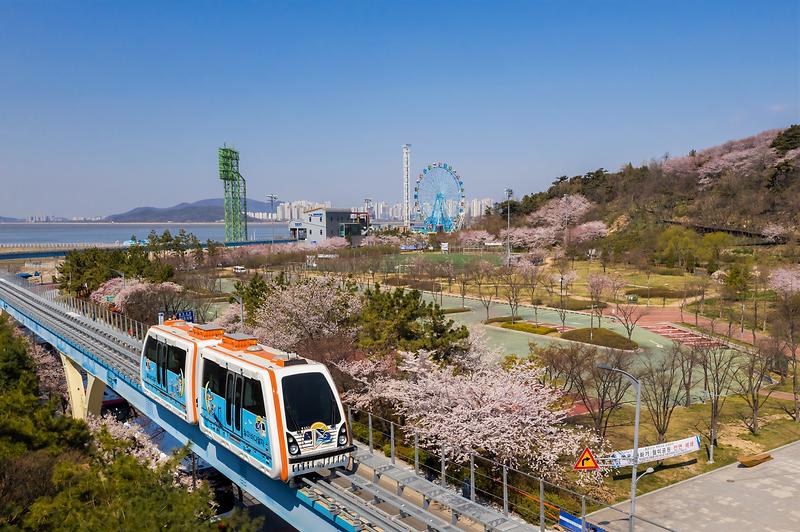 The ticket costs 8000 won per adult and it allows you to take maximum 2 rides. You could get down at any station in the middle. To reserve a ticket, visit https://www.wolmiseatrain.or.kr !
Other activities and attractions
Other than those stated above, actually there are so many more attractions and activities you can do in Wolmido such as Wolmido Island Cruise Ship, Wolmi Park, musuem and Wolmi observatory.
Spending a day in Wolmi Island will definitely won't be a regret!