When it comes to travel, Korea rivals the East Asian countries and is one of the most popular destinations, especially in the spring. If you are planning a spring vacation, you must continue reading. May is the starting of the spring season in Korea, and the weather is nice. The weather is cool, with average low temperatures of 8°C and average high temperatures of 20°C. The pleasant weather makes it easy to explore the country, and with the summer rains away, there are plenty of outdoor activities to enjoy in Korea in May.
Festivals during May
May is one of those months with good weather because there is no snow and it isn't too hot. Hence, here is a list of things to do in Korea in May.
1. Jongmyo Daeje
This is an event that includes a traditional parade celebrating Korea's royal ancestors. The parade is very entertaining, with ethnic performances, colorful costumes, and elaborate ceremonies. The parade is held on the first Sunday of each month and travels through downtown Seoul to the shrine at Jongmyo. During this gathering, you will witness all-day rituals and listen to traditional music.
2. Boseong Green Tea Festival
In May, the Boseong tea fields have some of the most beautiful scenery in Korea. The tea festival is held in May, and attendees may participate in activities such as picking tea leaves, tasting green tea treats, and making tea. More activities are held here, and visitors can also learn about the traditional tea ceremony culture. A ceremony is often held in which the Tea God is prayed to for abundant harvests!
Address:  775 Nokcha-ro, Boseong-eup, Boseong-gun, Jeollanam-do
3. Mungyeong Traditional Chasabal Festival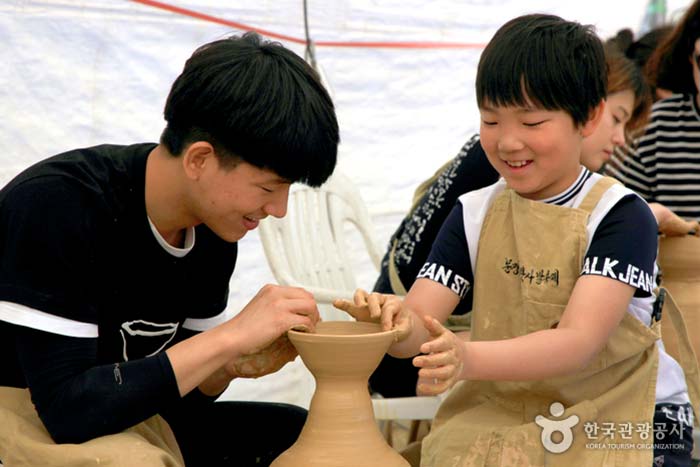 This is a yearly festival held at Mungyeongsaejae Provincial Park. The festival starts in late April and runs through May. The International Exchange Exhibition for Chasabal, Mungyeong Traditional Ceramic Ware Exhibition, and other activities are held here. During the festival, visitors can make their own ceramics and engage in tea programs. They can also dress up in Joseon dynasty costumes and create memories that will last a lifetime.
Address: Mungyeongsaejae Provincial Park area