Have you ever welcomed the New Year without your friends, family, loved ones, or the people you used to celebrate with during this special day? Also, have you ever been to South Korea during the winter season? Plus, have you ever seen snow? Before I came to South Korea, I dreamed of making my own snowman and play with snow. So when I decided to stay in Korea in the wintertime, I was very excited to see heavy snow falling because we don't have this in our country. 2021, it is my first time to celebrate New Year's Day in South Korea. Far from what I expected, I welcomed the new year on a cold and snowy day.
New Year's Day Celebration
Similar to many other countries, January 1; New Year's Day is observed as a national holiday in South Korea. Koreans visit the mountains or the coast to watch the first sunrise of the year. It is part of their tradition to do this on the first day of the year. As a matter of fact, Seollal (Lunar New Year's Day) is much more meaningful to Koreans than January 1, New Year's Day. It is one of the most traditional holidays, and they spend it together with their families.
Relative to how Koreans celebrate Christmas Day, spending New Year's Day with your family, friends, and loved ones in South Korea is not a common thing.
Winter In South Korea
The Winter season lasts from December to February. During this season, the temperature drops below -20°C. Winter in South Korea is extremely cold. Also, heavy snow usually falls in some parts of the country. Streets, parks, gardens, and roads are covered with snow and turned into a wonderful Winterland.
Winter Activities in South Korea
Although the winter season is very cold and can be harsh, there are still loads of things to do. Despite the dropping temperatures, you can join and watch festivals, events, and performances. You can also experience snow sports, ice skating, skiing, snowboarding, snowman making, and other winter activities.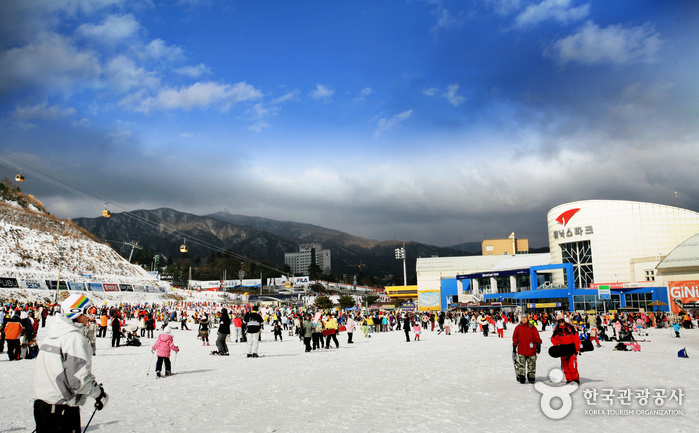 Winter Street Food in South Korea
Bungeoppang (붕어빵) or, Korean Fish-shaped Bread is one of South Korea's most famous winter street food. Bunggeoppang or carp bread is a fish-shaped pastry filled with sweetened red bean paste. The standard filling is red bean but, there are some bungeoppang that filled with chocolate, pastry cream, pizza toppings, and others. During the winter season, you can easily find bungeoppang food carts on the streets. You will certainly enjoy this food especially when it is freshly baked and the filling is still hot. It usually costs 1,000 Korean won.
My First New Year's Day Celebration in South Korea
So how did I spend New Year's Day? I celebrated it with my friend. We went to Daejeon Skyroad and spent the entire day touring the area. It was a cold and snowy first day of the year. Actually, it almost snowed the whole day. There were also many people who spent their New year in sky road.
So why did we go to Daejeon Skyroad out of all the amazing places in Daejeon during New Year's Day? Well, my friend loves shopping and it's the only place we think we can buy and do a lot of things. In addition, there are also photo zones or spots near Daejeon Skyroad. We love taking pictures and we want to collect and capture a lot of memories during the special New Year's Day. So that's why we ended celebrating the new year there.
Despite the extremely cold weather with heavy snow falling while roaming around on the first day of the year, I had a lot of fun. Certainly, it is an unforgettable and memorable New Year's Day.
Thank you for reading my articles! You can also see more of my Korea Travels here and on my IG!