Waffle Khan is my favorite chain waffle house in South Korea. It's delicious, affordable, and there are endless options.
Introduction
Western European cuisine is one of my favorites, if not my favorite. I love every single detail of how both salt and sweet dishes are created and made in daily life. And waffles being, despite what a lot of people think at first, a very Netherlands-Belgian creation, I could not help but l-o-v-e it.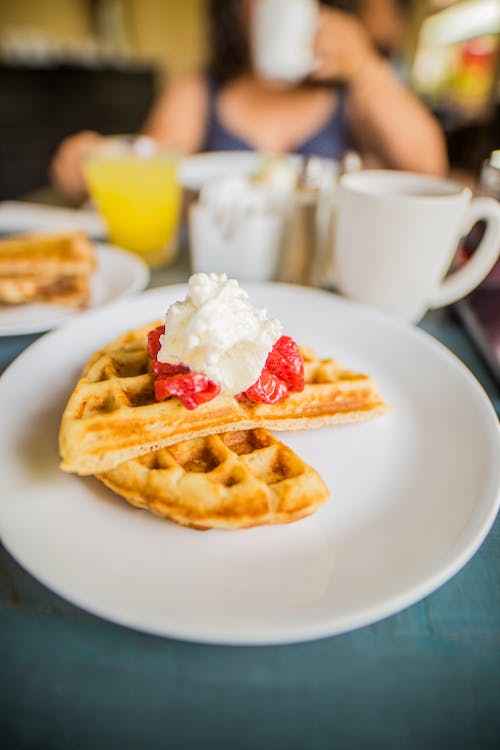 Although Korean desserts are very tasty, there is nothing like the good old pâtisserie we eat from time to time. One day, on my way back home after work, I was longing for something sweet to eat. My eyes sparkled at the sight of a waffle shop on the avenue. No thoughts needed, I turned towards the eatery with a mechanical movement in a split second.
Waffle Khan
Before diving into the waffles themselves, let me introduce you to Waffle Khan, the Korean waffle chain I quickly fell in love with. Managing to mix the traditional European recipes and a pinch of the American-styled waffles. They started the business in Busan in 2014, and in less than ten years they managed to open 150 franchises only in Korea. Now they even expanded the stores to Japan and all the way down to Australia. Needless to say, they are great at what they do!
There are plenty of franchises in both North and South Chungcheong Provinces (Nonsan, Sejong, Gongju, Asan, Jeungpyeon, etc) and about five only here in Daejeon. I am lucky enough to live less than ten minutes away from one.
The Menu
The menu is divided into sections: waffles, croffles, coffees, beverages, and other desserts. Food is organized from the most simple to the most elaborate, which makes it way easier to choose what you want to order. The options are also vast. You can get the plain waffle with no toppings, waffles with whipped cream only, cream and jam, and from then on it starts getting creative.
Sweet Waffles
From fruits from cold climates to tropical ones, you name it and it shall be given to you. Chocolate spread, cinnamon caramel, custard, cinnamon choco, and cream cheese! You can also have mixed flavors such as chocolate and almond, Nutella and kiwi, Nutella and strawberry, Nutella and banana, custard and strawberry, and chocolate fondant! And one that screams summer the most: Napolitano ice cream waffles. Yumm!
Since we are in Korea, traditional flavors in the country are also a must. Red bean paste, injeolmi, and kaya cream are also on the menu if you are interested in to mixing Western recipes with Asian tastes.
Savory Waffles
To be honest, I was not expecting these options on the menu, but it was a good surprise seeing them there. There's waffle pizza as well as cheese and corn (both with and without bacon). They looked so good that it was hard to resist the temptation of ordering them all at once.
Croffles
For those who do not know, croffles are a mixture of croissants and waffles. The croissant itself is already extreme for my taste. So I'm not a big fan of waffles. However, I must acknowledge they did look tasty. Strawberry jam, custard, ganache, cream cheese… Again, the options were plenty. They did remind me a little bit of some of the goodies you can buy at Paul, the famous chain you can find anywhere in France. Oh yeah, they also had injeolmi, of course.
Drinks
Although you don't get a lot of different types of coffee at waffle Khan, they make it up with an extensive menu for other drinks. They have smoothies, juices, shakes, ades, and teas. What I love the most about it is the amount of different fruit you can choose from.
Ordering the Waffles
Entering the establishment I found it very quiet. You actually don't even have to talk to the employees there since you order through a computer (just like the big fast food chains). However, you do not have the English option on the menu – at least not in the one I went to. Even though I was happy to find a waffle shop, I must confess I had some doubts because of the influence the American taste has on the dish. They tend to put some things that can make me feel… overwhelmed. But, oh boy was I happy going through the menu.
As someone who enjoys simple and more natural tastes, my go-to is always the whipped cream with jam – the fruit changes according to my mood. I was already pleased with the price of the waffles and my happiness only grew bigger when the orders arrived due to their sizes.
Not small but, also not crazy huge, the batter was so fluffy that I don't even feel heavy after eating something that big. With the right amount of cream on it, the fillings were simply giving everything. I could finally understand the load of delivery orders they were getting.
Final Considerations
Waffle Khan is one of my favorite food chains here in Korea. I loved the variety of flavors, I loved the taste of everything and also loved the price! They like to keep the ingredients fresh, so much so that sometimes you won't be able to order some of the fruit options but I believe that actually adds up to their quality.
The salty waffles also grew on me really fast. Very organized and with an efficient service, I totally recommend anyone and everyone to give it a try.
If you are in Busan and looking for a more local waffle place, Click Here to read about the three best waffle houses in the seaside city.