The Seoul Metropolitan Government is conducting a survey at home and abroad to select a new branding slogan for the capital.
To enhance the city's competitiveness and take a major step forward toward becoming a global hub, the city government said it launched a survey to run through Jan. 31 on voter preference among four candidate slogans.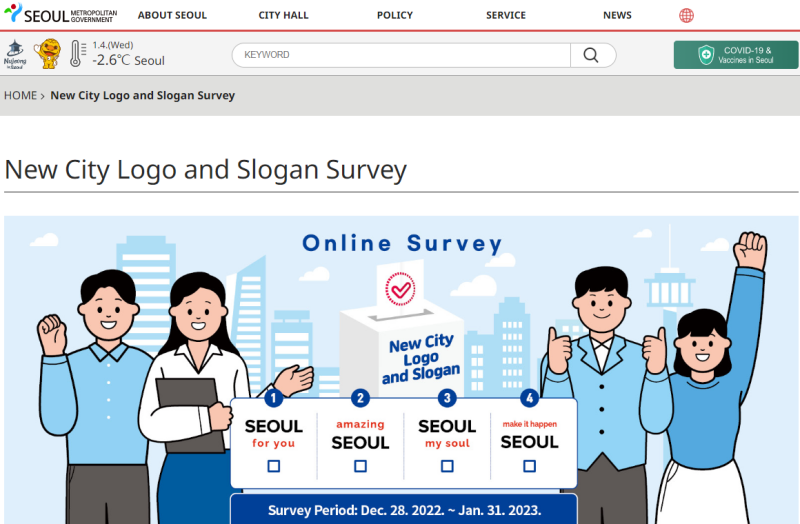 The four candidates are "Seoul for you," "Amazing Seoul," "Seoul, my soul" and "Make it happen, Seoul."
"Seoul for you" expresses the city's governing philosophy of being a companion of the socially vulnerable and implies that the city prepares everything for its residents. "Amazing Seoul" emphasizes the capital's competitiveness as the nation's center of tradition, culture and art with plenty of to do.
Using the similar pronunciation of the terms "soul" and "Seoul," "Seoul, my soul" has the meaning of "a city that fills the soul." And "Make it happen, Seoul" highlights the potential of the metropolis's dynamism that makes everything possible.
The city government selected slogan ideas reflecting the opinions of 1,714 people — including 1,647 foreign nationals — and chose the four finalists through a preliminary survey on 2,000 residents of Korea and abroad.
In August last year, the capital began development of a new branding slogan amid public criticism of the existing "I·SEOUL·U" as vague in meaning and counterintuitive.
This is the first time for the capital to change its slogan since 2015.
The Official Website of Seoul. You can view a wealth of information about the city, including the main policies, history, culture, tourism, metropolitan experience, medical welfare, transportation, etc., along with an overall introduction to the city such as Seoul-related videos, photos, and map.
The city will decide the winning slogan based on the survey results and expert opinions and announce it after additional design work in February this year.
Anyone in Korea or abroad can take part in the survey through the links below.
– Korean: https://www.seoul.go.kr/brandvote
– English: https://english.seoul.go.kr/new-city-logo-and-slogan-survey
– Japanese: https://url.kr/f7wz9l
– Chinese (simplified): https://url.kr/u89kna
– Chinese (traditional): https://url.kr/u3ldi1