One name is all it takes to make music fans from all around the world go wild. In case you haven't guessed by now, we're talking about boy band sensation BTS. And if you're a BTS ARMY, we're sure you're super excited for the band reuniting to perform on stage in South Korea's second-largest city- Busan. Whether you've managed to score your tickets or not, there's no reason to break a sweat. There are tons of fun activities for BTS fans in Busan!
Busan is home to BTS-themed activities galore. From the historic concert taking place over the weekend to countless cute tourist spots where you can reminisce about some of BTS's best moments. Here are the top 5 things to do in Busan for loyal fans.
The Most Coveted Ticket Of All: BTS Yet to Come Concert 2022
South Korea's renowned port city of Busan is playing host to BTS on Saturday, October 15th, 2022. As you can imagine, the anticipation is real! Fans from all over the globe are arriving for this memorable occasion.
It has been termed the country's most sensationalized happening of the year. The band will deliver a performance of a lifetime as an initiative by the government to possibly secure a position for the World Expo in 2030. In sum, they are going all out!
As you can see, there's a lot at stake and the stage is ready for fans to flock to Busan with incredibly high spirits. If you're one of the lucky few who won a seat that many millions envy, congratulations! For the rest, you can always tune in to Naver. Naver is winning over hearts after announcing a free-of-cost live stream of the whole concert.
It will be held on October 15, 2022, at 6PM KST for anyone wanting to join the stream.
Strike a Pose in Jimin's Favorite Spot: Dadaepo Beach
Situated in the hometown of loved BTS members Jimin and Jungkook, one of Busan's finest offerings is Dadaepo Beach. The popular tourist destination is the same spot where Jimin stood and filmed his own personal vlog in 2016.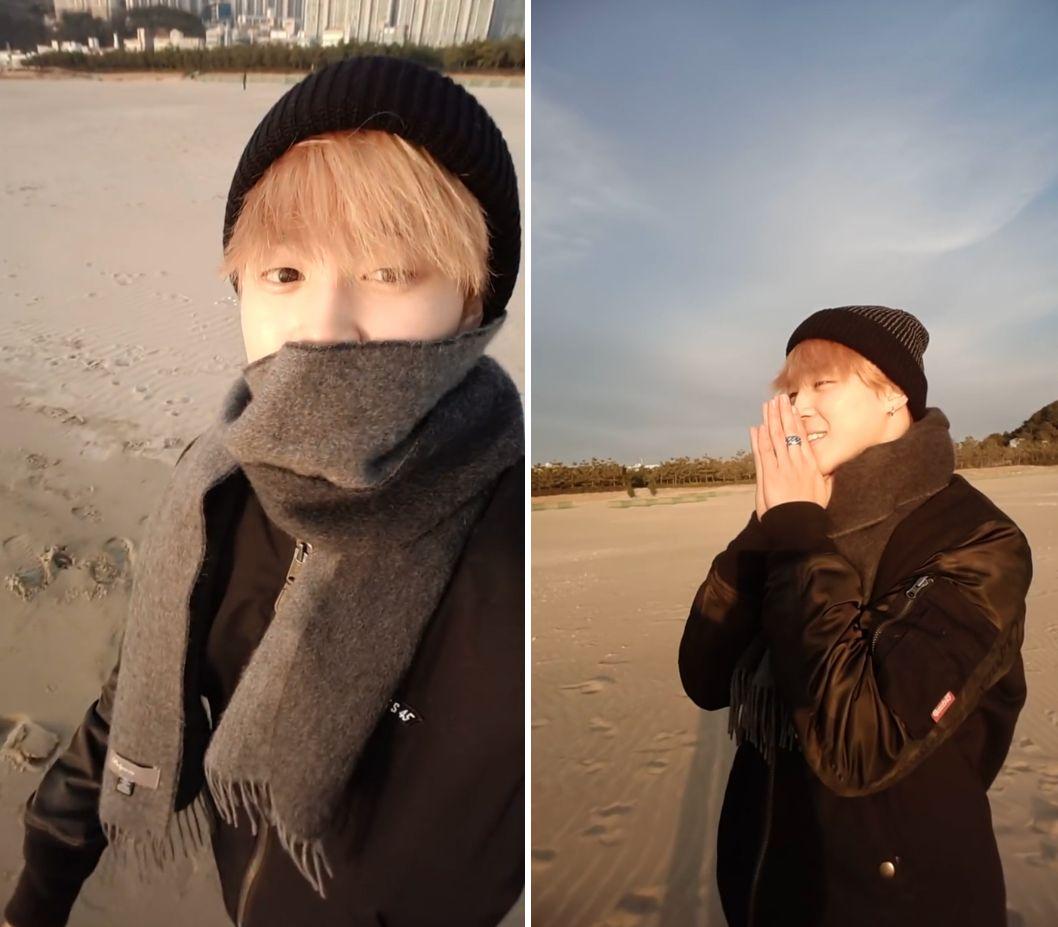 Perfect for soaking in the golden hour moment, the beach offers majestic views that are soothing to the eyes and the mind. There are stunning coastal parks with walk paths for a relaxing experience. Therefore, it makes sense why BTS ARMY members swarm the location and try to recreate their own version of Jimin's popular Vlog. Let's not forget the great hopes attached to meeting the star one day.
Dadaepo Beach (다대포해수욕장)

Address: Saha-gu, Busan
Korean address: 부산광역시 사하구
Operating Hours: N/A
Directions: Busan Metro Line No. 1 (Exit 4)
For more information on visiting Dadaepo Beach, Click Here.
Possibly See Jimin Himself: Cafe Magnate
If you bleed purple and have an appetite for all things BTS, Cafe Magnate in Busan should be at the top of your list.
The popular cafe is owned by none other than BTS member Jimin's father so the chances of running into your favorite band member are pretty high on your visit. It's no wonder why you're bound to bump into fans from all over who call it a holy spot for this reason.
Furnished with the cutest interiors that add an ambiance of coziness to a spacious location, you'll find stellar pastry delicacies and a really nice cup of coffee to go with it too. We're already dreaming, what about you?
Magate  (메그네이트)

Address: 135 Jinnam-ro, Nam-gu, Busan
Korean address: 부산 남구 진남로 135 B동
Operating Hours: 10:00 AM - 09:50 PM
Meanwhile, if you are in the Korea Expo city, don't forget to visit these best rooftop cafes in Busan.
Shop Till You Drop: The Official BTS Merchandise Store 
The famous Lotte Department Store in Busan's Seomyeon District is now dedicating an entire section to BTS ARMY. In anticipation of the World Expo 2030, this will be the only store in South Korea selling official merchandise linked to the BTS Yet to Come Concert.
An entire hall has been dedicated solely for fans to hop on over and purchase official BTS clothing, accessories, and other fancy goodies. It wouldn't be wrong to call this location a haven for BTS fans. And the best bit is, the products are being sold offline first to make them super exclusive.
Lotte Mall Main Busan Branch (롯데백화점 부산본점)

Address: 772 Gaya-daero, Busanjin-gu, Busan
Korean Address: 부산광역시 부산진구 가야대로 772
Operating Hours: 10:30 AM - 08:00 PM
Location of BTS Store: B1
Party All Night Long: Lotte World Afterparty
Do you know that Lotte World's famous amusement park is transforming into a BTS-themed extravaganza? It's a dream come true for BTS ARMY in search of a magical experience and some heart-racing fun.
Busan's Lotte World Adventure has gotten a makeover for the upcoming Yet to Come Concert where the band's songs play in the hopes of making visitors sway to the beat. Additionally, the theme park's famous Lorry Castle will light up in purple glory between the dates of October 14 to 31st. We can only imagine the spectacular ambiance and that feeling of purple bliss that only true fans can associate themselves with.
Additionally, fans will enjoy state-of-the-art multimedia shows. These will include jaw-dropping special effects in the form of laser with fireworks. And yes, each day will bring a new surprise for thrill seekers.
The park also promises special BTS-themed food and drinks to fill up hungry bellies after a fun and tiring adventure. If that wasn't enough, there will be after-party events taking place on the weekends to carry on with the fabulous BTS party vibe.
Purple Lights Up
Date: October 14 to 31st, 2022
Time: 7PM
Location: Main stage in front of Lorry Castle
Yet to Come After Party Day 1
Date: October 15
Time: After 10 PM – 3:00 AM
Location: Main stage in front of Lorry Castle
Key Information: You may NOT use a general admission ticket to enter the after-party day 1. This is a separately-ticketed event.
Yet to Come After Party Day 2
Date: October 16
Time: After 10 AM – 11:00 PM (Main program: 9:00 PM- 11 PM)
Location: Main stage in front of Lorry Castle
Lotte World Adventure Busan (감천문화마을)

Address: Busan, Gijang-gun, Dongbusangwangwang-ro 42
Korean address: 부산 기장군 기장읍 동부산관광로 42
Operating Hours: 10:00 AM - 09:00 PM
As you can see, every nook and corner of Busan has something special to offer for BTS fans. We suggest you book that ticket and head on over for an experience of a lifetime!