It's the start of the new school year here in South Korea. Each year, the school year in South Korea begins on March 2nd. It's after Lunar New Year celebrations have come to an end and the day after Korea's Independence Movement Day. These are some tips on how to help tackle some of the anxieties your child might have about going back to school after the break.
New Beginnings
The winter school holiday has come to an end. Whether your child is just taking their first step into school, or starting a new grade as a returning student, it's time to start considering how they can put their best foot forward and get ready for the year ahead.
And, while some students are excited to meet their new teacher or catch up with their friends, others are more concerned about the new semester. More and more kids are experiencing back to school anxiety, especially as we emerge out of the pandemic.
As a parent, you can certainly lessen your child's anxiety about their first day at school by being positive about school.  Here are several suggestions for a stress-free start to the new school year. Let's help our kids get back on track and stay motivated!
Visit the Classroom in Advance
This is especially crucial if your child is returning to in-person learning after periods of remote learning.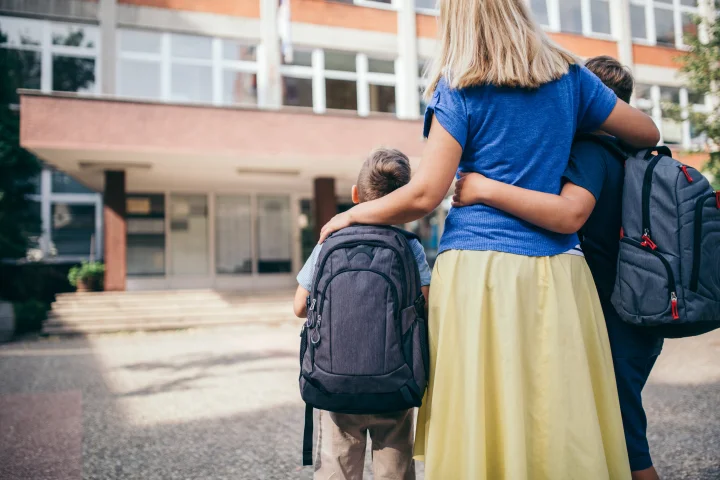 You can give your child a tour of the school to help them recognize their class, the restrooms, and the locations to be picked up. Additionally, if you are in South Korea, you can show your child the bus/subway routes, or where their school van will drop them off. You can do this even if the teachers do not invite families to visit ahead of time.
Back to School Books
Stories with relatable characters, especially those with characters attending their first day of school are particularly effective for relieving first-day jitters and providing a boost of confidence where needed. 
In doing so, parents can find a read-aloud that allows them moments to pause and ask their child what they're feeling or thinking about in terms of the new semester.  Reading together is genuinely a great way to start a conversation.
Have Open Conversations About Back to School Anxiety
Talk to your child regarding their feelings of back to school anxiety. What are their impressions of their school, classmates, and teachers, as well as new activities?
SEL and Back to School Anxiety
Social-emotional learning, generally known as SEL, is a prevailing topic among educators today. It is widely incorporated into the curriculum in many school systems. SEL refers to the ways in which children develop positive and healthy relationships with themselves and with others. 
This framework of self-awareness can literally begin at home. When discussing back-to-school, you might gauge your child's thoughts about the classroom. For instance, parents can ask their children what they are anticipating and what they are interested in learning, along with any concerns they might have, especially worries about being bullied in school.
And so the new adventure begins~ Happy first day of school!
Want to learn a bit more about sending multicultural and immigrant kids to school in South Korea? Click Here for information on international schools in Korea.