Jeju Island, the number one destination in South Korea for holidays. You should think about it as well, but first, let me tell you what you should know before visiting Jeju Island.
The first time I went to Jeju Island with my friend, she warned me about many things but I thought I was well prepared. Oh well, I wasn't hence I don't want you to make the same mistakes. Keep on reading to get the best out of your trip:
Visa
First thing first, documents! You need to make sure if you need a visa to get to Jeju Island.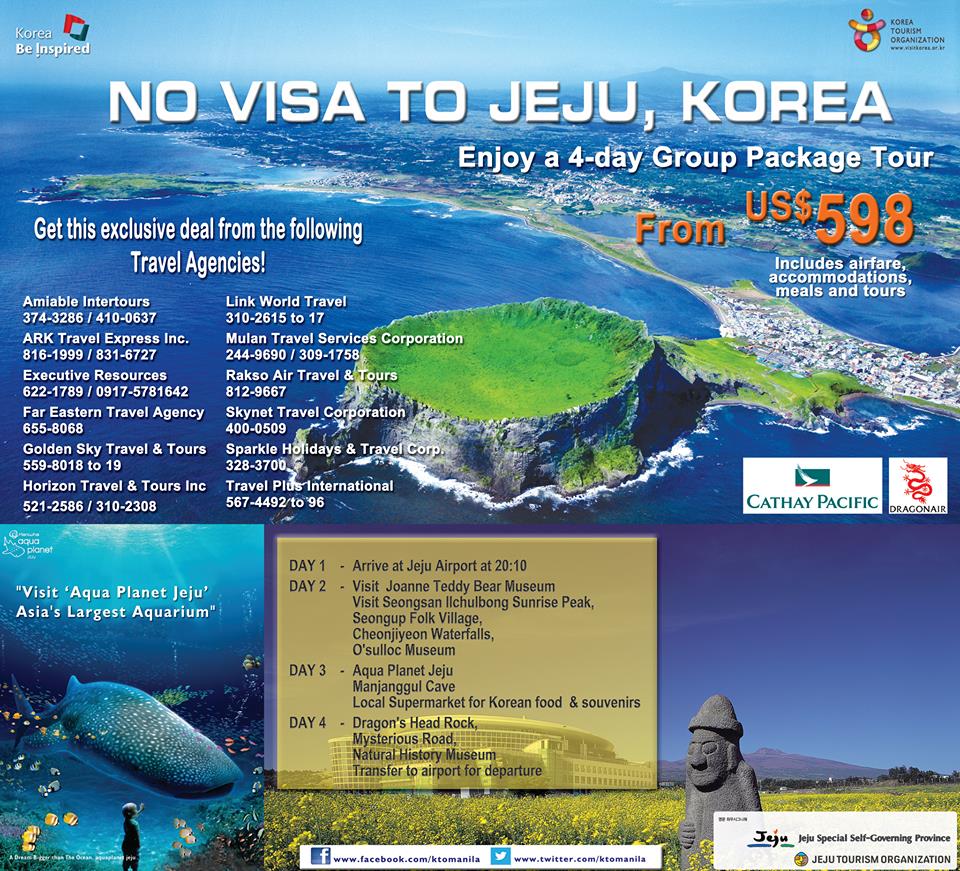 According to Jeju Airport's website, here are the conditions:
Visa-free Entry to Jeju: 180 Countries.
(Only 11 countries are required to apply for a visa: Afghanistan, Cuba, Ghana, Iran, Iraq, Libya, Nigeria, Macedonia, Palestine, Sudan, and Syria)
Duration of stay: Up to 30 days
Conditions of entry:
– Those that arrive directly into Jejudo island by flights or ships.
* A Chinese tourist group arriving at the Incheon International Airport, who intends to travel to Seoul and Gyeongggi Province within 12 or 24 hours and then go to the Jejudo island by transferring to the domestic flight. (Domestic connecting flight) – (Hereinafter referred to as 'group transit passenger to Jeju)
– For a group transit passenger to Jeju, a person must join a tour program of Korean travel agents that serve Chinese tourists groups only and that are designated by the Ministry of Culture, Sports, and Tourism, and the Chinese travel agents in charge of a group visa application at the Korean embassy or Consulate General in China. Also, a group transit passenger must hold a domestic airline ticket to the Jejudo Island in which a flight departs within 12 or 24 hours
(Source: Korean Immigration Office, www.hikorea.go.kr)
[Please check the updated conditions here as of the recent events]
The weather

Next, the weather! It is essential to check the weather forecast before choosing a date. Korea has what we call Monsoon season. In other terms, RAIN! Also strong wind and some typhoons.

JEJU

If you want to come during Summer, I advise you to do so in early June (if you want to enjoy the beach). Or during Spring, when the climate is the driest and temperatures are mild.

TIP!

Make sure to pack a jacket as it can get cold at night. And mosquito spray.
Transportation
I went to Jeju Island as a student, hence I had no other transportation mean than the bus. The island may seem small on the map but it is Huge! To get from one point to another, it takes a minimum of 1 hour by bus.
The thing is, buses in Jeju Island are not like in Seoul. And there's no subway. You have to walk to the nearest bus station and wait, a long time before a bus shows up. And if you're lucky to get in one, the number of stops will get you to your destination in more than an hour. You can opt for a taxi, there are many taxis driving around and if you can't find one you can try the Korean Uber which is KakaoTaxi app. This option is convenient but it depends on your budget, it can add up and be quite expensive by the end of your trip.
What I recommend is:
Option 1: Book your hotel in a strategic place depending on what you want to see, for my case, I stayed at Hamdeok beach as i wanted to enjoy the beach and everything was more convenient there. Or you can book different places in different areas to enjoy each side;
Option 2: Get a car. If you have an international driving licence, you can rent a car at the airport or even book it before you arrive.
Food
Depending on where you are on the island or your diet, you may have some difficulties. In some areas, western food is absent. The main food in Jeju Island is black pork and seafood! Not the best when you're vegetarian or Muslim.
I wrote before an article about Halal-friendly food in Jeju Island, you can check it out:
Jeju Island: beautiful scenery, fresh air and delicious food. Who could ask for a better…
Where to stay
I learnt this the hard way the first time I visited Jeju Island. If you are visiting Jeju Island, your location is essential!
Jeju City is the island's largest city. That is the spot to stay if you appreciate cities and having everything convenient, nice shopping, and everything working and open late at night! But if you like to be in the nature, you can opt for areas outside the city (at your own risk).
My favorite is Hamdeok Beach, read more here.
To conclude, visiting Jeju Island is a memorable experience…you just have to be well prepared~
Related Links