One of the most popular parks along Hangang River is the Yeouido Park. Have you ever been to Yeouido Hangang Park? Besides, have you ever experienced one of their events and festivals here? Actually, there are several and must-try things to do here.
Exciting Events In Yeouido Park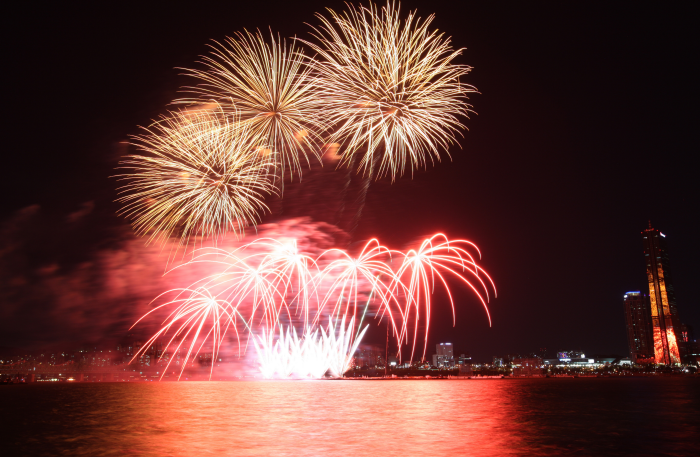 The park offers several exciting events throughout the year. In Spring, there is Yeouido Cherry Blossom Festival, while in Autumn, a World Fireworks Festival. There are also new attractions like the Water Light Square, Waterside Fountains, the Waterside Stage, Festival Land, the Piano Waterway, Waterfalls of Light, the Yacht Marina, and more. In addition, some marathons, various performances, and concerts are held here which attract a lot of visitors and ordinary citizens.
Fun Things to Do in Yeouido Park
Take Photos of 'I SEOUL U'
If I am not mistaken, the Yeouido Hangang Park has the largest "I SEOUL U" mark in the city. Signs like this are positioned around the city, but this is the largest I've seen so far. Looking for a nice spot to take photos for your Instagram posts? It is the perfect one for you.
Also, in Yeouido Hangang Park, you can take a Han River Cruise (Eland Cruise) here. Eland Cruise runs within Seoul from east to west. There are two ferry terminals, in Yeouido and Jamsil, that offer river cruise programs. Enjoy a stunning view of Hangang River in the daytime, watch fireworks display at night and, spend a romantic cruise experience in the beautiful city of Seoul. You can enjoy here the enchanting beautiful views of Seoul in the most romantic way.
Ticket Cost:
If you want to experience this, head to the Eland Cruise ticket office and get your cruise on. The ticket price varies depending on the program you want to experience. These programs operate every day. You can also book a ticket through Klook, and you will get some discounts, too. (Story Cruise: 14,000 Korean Won; Moonlight Cruise: 19,000 Korean Won; River Music Cruise: 25,700 Korean Won)
Cycling Around The Park
You can rent a bicycle and explore Yeouido Hangang Park. It is also a great way to enjoy the garden, the trees, and the Han river view.
Enjoy a Picnic with your Family or Friends
One of the great ways to spend a great time with your family, friends, or loved ones is to have a picnic in the park. Buy or bring your own picnic blanket, a basket of food and enjoy the amazing view of the Han river.
Korean Dramas Filmed Here
You know what, Yeouido Park appeared in most Korean Dramas. It is a very hot k-drama filming location. Korean dramas such as Who Are You: School 2015 (2015), Temptation (2014), Something Happened In Bali (2004), Beautiful Days (2001), Money Flower (2017-18), Live Up To Your Name, Dr. Heo (2017), Temperature of Love (2017), Bride of the Water God 2017 (2017), Father Is Strange (2017), The Best Hit (2017), Chief Kim (2017), Please Find Her (2017), The Secret Life of My Secretary (2019), God's Quiz 5 (2018-19) filmed here.
Additionally, The Last Empress (2018-19), The Third Charm (2018), Switch: Change the World (2018), Your House Helper (2018), Rich Family's Son (2018), Two Cops (2017-18), Beautiful Love, Wonderful Life (2019), In Seoul (2019), Abyss (2019), Designated Survivor: 60 Days (2019), Mother of Mine (2019), More Than Friends (2020), Do Do Sol Sol La La Sol (2020), The Spies Who Loved Me (2020), The King: Eternal Monarch (2020), and When My Love Blooms (2020) also featured Yeouido Park in some of their drama scenes.
The popular Yeouido Hangang Park is indeed an ideal place to stroll around, chill and relax. Come and enjoy the striking view of the Han River, as well as the magnificent view of the city here in Yeouido Park!
Yeouido Hangang Park Address: 330 Yeouidong-ro, Yeoeuido-dong, Yeongdeungpo-gu, Seoul, South Korea
How to Get There
The Yeouido Hangang Park is very accessible by public transportation such as buses and subway. Take Seoul Subway Line 5 to Yeouinaru Station and go outside via Exit 2 or 3.
Thank you for reading my articles! You can also see more of my Korea Travels here and on my IG!