SUMMER means time for festivals and concerts in Korea!! If you are a Kpop fan, summer in Korea is amazing. There are so many summer festivals that feature some of Korea's hottest celebrities. If you're not a K-pop fan, don't worry. There are plenty of festivals that can help you cool down for the summer.
Summer Festivals in Korea
In this article, I will list some music and non-music festivals that are held in the summer. Each is held annually. They had to pause due to pandemic protocols, but now they are back in full force. Plus, there is even a new edition to the list!
Are you ready to party this summer?
Receipt Concert
영수증 콘서트
This concert is a brand new concert this summer! The first annual concert held in the summer of 2022 is Korea's first major charity concert festival.
This past spring, Gangwon Province experienced a major forest fire. Although no lives were lost, it destroyed a large number of properties and many people lost their livelihoods. This concert aimed to help locals whose businesses suffered after the fire, and it was sponsored by Gangwon Province's government. It was held in Gangneung for 2 days with a great line-up: Jessi, Gummy, Song Ga-In, Kim Bum-Soo, Koyote, YB, and many others.
The icing on the cake? The price! The reduced ticket only cost 10,000 Won! It's super cheap for a concert in Korea. It also has a 'normal price' of 50,000 Won. However, there was a catch.
At first I was confused about how it would work. It is a new summer festival so not much information was available and my Korean is limited. After Papago-ing the whole information, it became clear.
How Concert payment Works
I did need to pay 50,000 Won. However, only 10,000 needed to go to the concert. the remaining 40,000 Won could be paid by showing receipts (yongsujeung in Korean, hence, the concert's name) of spending at local stores in Gangwon Province. They even accept digital taxi receipts (KakaoPay)!
We did not live in Gangneung, so we could only spend money on the concert day at a chicken restaurant and cafes. After bringing all the receipts to the concert venue, the staff calculated everything and asked us to pay the remaining amount from the concert's full price. It was very cheap and we still got some voucher money to be spent on food from the local food trucks at the concert venue. In addition, we got a lot of free souvenirs from the Gangwon government after participating in some games at the venue.
Waterbomb
워터밤
Waterbomb is an annual concert and has been held since 2015. Like everything else, COVID19 affected this event, so there has been no waterbomb for 2 years. But, it's finally back this year!
This concert features a spectacular line-up from multiple genres: pop, hip hop, and R&B. It is held in 5 different cities (Seoul, Daegu, Busan, Incheon, and Suwon) with a different line-up for each day and each city! The price is around 132,000 Won, which is the standard ticket price for a concert in Korea. Popular acts like Jay Park and Jessi are among the line-ups, so it's definitely worth it!
You may have guessed from its name, that Waterbomb involves tons of water. The audiences and performers will be equipped with water guns (and bombs) to engage in a water fight. That's why the organizer advises the concert-goers to wear rash guards and other beach wear to this summer festival. They also prepare some washing and changing rooms so you don't need to go home soaked.
I found the water fight to be the most exciting part of the concert. The audience and the performance will be divided into teams (in different mosh pits). You can choose which team you want to be on when you purchase the ticket.
Despite drawing criticism for their excessive use of water amid a drought in Korea, Waterbomb can be one of the coolest activities in summer! Plus, the drought seems to have come to an end thanks to a wetter than normal monsoon season. They also promise to return next year!
Boryeong Mud Festival
보령 머드 축제
This summer festival is well-known to both foreign residents and locals because it has been held annually since 1998. However, this year will be the first time in two years that Boryeong City can hos the festival. The city first held the festival to promote its city's mud, which is used as the ingredient for cosmetics.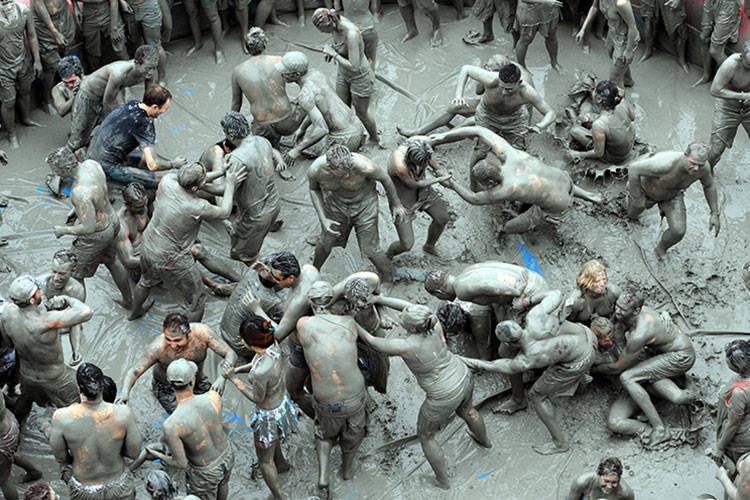 It has grown in the past decades to be one of the largest festivals in the country. Each year, Boryeong city designates several 'mud zones' for visitors to get dirty while enjoying some fun activities (ticket required).
If you are traveling alone, no worries. You can find group tours on sites such as Trazy by Clicking Here. Listed activities include Go-Karting, Sky Bike, mud massage, mudslides, and many more. Additionally, there will be a K-pop concert on July 20th.
This year, this festival kicked off on July 15th and will end on August 15th. So, you have plenty of time to schedule a one-day trip to Boryeong! Prepare some old and discolored clothes to play with mud because the mud doesn't come off easily and potentially will ruin whatever you're wearing! If you wear glasses (or contacts) like me, I'd advise you to be very careful.
Gyeongpo Beach Beer Festival
경포비치비어페스티벌
As far as I know, this festival is fairly new. The Gangwon province government holds this summer festival every year to promote local breweries. Korea Times listed at least 16 local breweries that joined the festival held in Gyeongpo Beach. These breweries are not only based in Gangwon Province, but also in other regions, like Gapyeong County's Kabwe and Incheon's Caligari Brewing.
Besides beer, you can also enjoy food trucks, DJ parties, and busking. The organizers are also trying to reduce plastic waste, so they strongly suggest people bring their own tumbler for the beer. As a bonus, the beach will also be opened for night swimming this summer, so there are multiple ways to enjoy the festival!
There will also be a coffee festival in Gangneung in October. Gangneung's coffee is amazing, so don't miss it!
If you prefer movies to music, Click Here to learn about the top Film Festivals in South Korea.