The under-20 (U-20) national soccer team has advanced to the U-20 World Cup after beating China in the quarterfinals of this year's Asian Football Confederation U-20 Asian Cup.
The Taegeuk Warriors on March 12 punched their ticket to the U-20 Asian Cup semifinals with a 3-1 overtime win at JAR Stadium in Tashkent, Uzbekistan.
The victory also secured Korea's third consecutive berth in the U-20 World Cup as the nation is among the top four finishers in the U-20 Asian Cup.
Led by head coach Kim Eun-jung, Korea played a scoreless first half but Mutalifu Yimingkari of China opened the scoring in the second minute of the second half. Korea tied the score after striker Kim Yong-hak scored on a penalty in the 17th minute of the same half.
In the 10th minute of the first half of overtime, striker Sung Jin-young broke the 1-1 deadlock with his score and defender Choi Seok-hyun added an insurance goal five minutes later to secure the 3-1 win.
In its Group C games, Korea beat Oman, 4-0, and Jordan, 2-0, and played Tajikistan to a scoreless draw, winning the group with two victories and a tie for seven points and advancing to the quarterfinals.
The Taegeuk Warriors on March 15 at 11 p.m. Korean Standard Time face the tournament's host Uzbekistan in the semifinals at Milliy Stadium, formerly Bunyodkor Stadium, in Tashkent.
Korea has advanced to its third straight U-20 World Cup, having reached the round of 16 in 2017 as the host country and making the final of the 2019 tournament. The 2021 edition was canceled due to COVID-19, and Indonesia will host this year's competition from May 20 to June 11.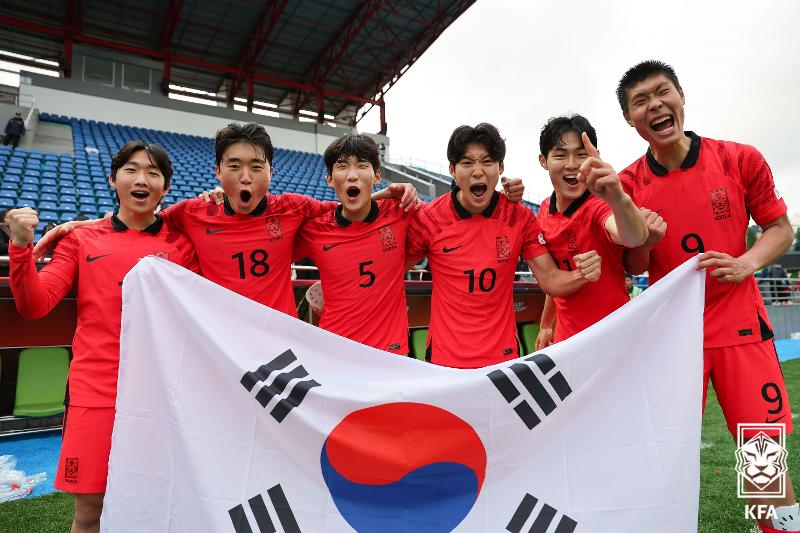 CONTACTS: arete@korea.kr
View original content to download multimedia: https://www.korea.net/NewsFocus/Sports/view?articleId=229968