Are you a flower lover? Is taking pictures of blooming flowers also your hobby? Moreover, have you ever seen cherry blossoms, especially in South Korea? Lastly, have you ever been to Korea during the spring season? If you have plans on traveling to South Korea in the spring season, let me give you a guide on where are the best stunning sites to see cherry blossoms.
Spring Season
Spring usually starts in March and lasts until May. The skies are usually clear, with an average temperature of 15 – 18°C daily. Spring in South Korea is considered the most fascinating and the most beautiful time of the year. Also, the Spring season is most well-known for cherry blossoms.
Flowers such as azaleas, chrysanthemums, cherry blossoms, magnolia, canola flowers, and other spring flowers are in full bloom and can be seen everywhere. These cherry blossoms attract a lot of visitors. It is often seen as the best time to visit South Korea.
Stunning Sites to See Cherry Blossoms
Seoul Forest
Seoul Forest is a large park in Seoul, and also an eco-friendly zone developing into a premium city-park of Korea. In fact, it is the third largest park in Seoul. You can see a beautiful sight of cherry blossom trees here in the spring season.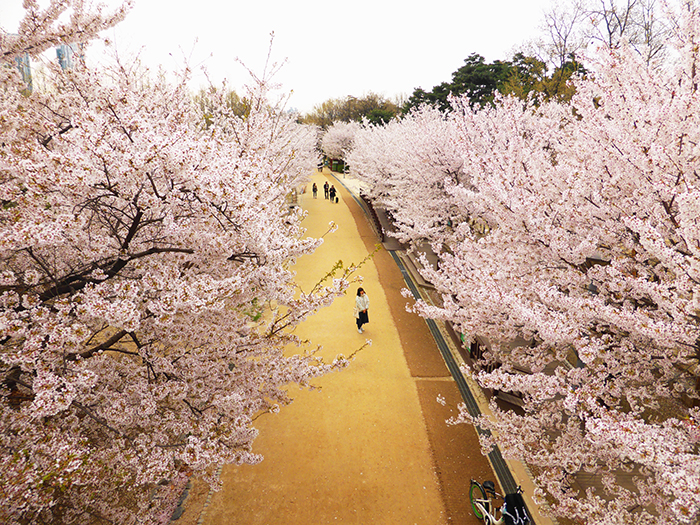 Address: 273, Ttukseom-ro, Seongdong-gu, Seoul, South Korea
How to get there: Seoul Forest is easily accessible by subway. Take the subway to Seoul Forest Station (Bundang Line) and exit via Exit 3. Then, walk for about 5 minutes to Seoul Forest. Or, you can also ride Bus Number; 141, 145, 148, 410 (Blue Bus) and 2014, 2412, 2413, 2224 (Green Bus)
Seokchon Lake
Seokchon Lake is an artificial lake in Seoul. The cherry blossoms here usually start to bloom in early April. In fact, lots of locals and foreigners go here because it is so popular during the spring season. Plus, you can also see here a magnificent view of about 300,000 cherry blossom trees.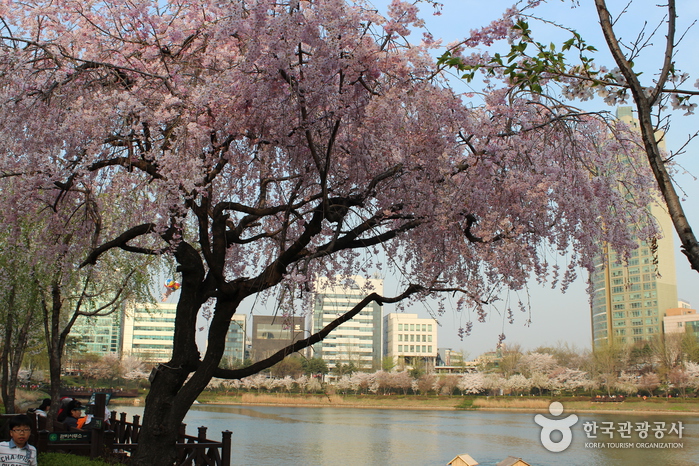 Address: 148, Jamsil-ro, Songpa-gu, Seoul, South Korea
How to get there: Take Seoul Subway Line 2 and get off at Jamsil Station, then exit via Exit 3. Or you can also take a subway to Seokchon Station and Exit via Exit 8.
Yeongdeungpo Yeouido
One of the most popular parks along Hangang River is the Yeouido Park. The park offers several exciting events throughout the year. In Spring, they host the Yeouido Cherry Blossom Festival. In Yeouiseo-ro, you can see cherry blossom trees and is the most famous cherry blossom street in Seoul. Furthermore, the tunnel of majestic trees here attracts a lot of visitors and local citizens as well.
Address: Yeouiseo-ro, Yeongdeungpo-gu, Seoul, South Korea
How to get there: Yeouido Park is very accessible by public transportation such as buses and subway. Take Seoul Subway Line 5 to Yeouinaru Station and exit via Exit 2 or 3.
Jinhae Gunhangje Festival
It is the biggest spring festival in Korea. Go, see, witness, and also enjoy the stunning cherry blossoms here. This is quite far from Seoul but, I will assure you, you'll gonna have a great spring day here.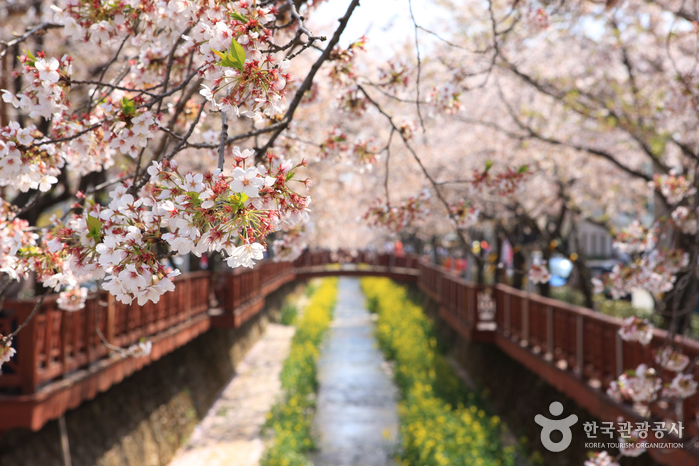 Address: (Jinhae Jungwon Rotary Intersection and Jinhae area) Jinhae-gu, Changwon-si, Gyeongsangnam-do, South Korea
How to get to Jinhae: From Seoul; Go to Nambu Bus Terminal (take the subway line 3 and get off at Nambu Bus Terminal station then exit via Exit 5) and take a bus direct to Jinhae. It will take approximately 4 hours and 30 minutes to get there.
Gyeonghwa Station Cherry Blossom Road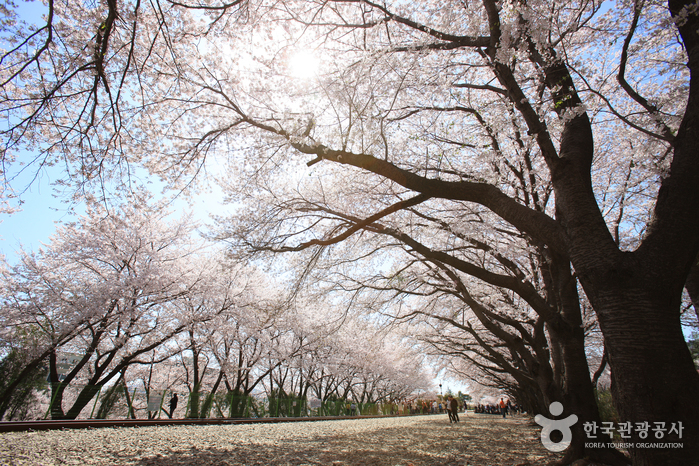 Address: 649, Jinhae-daero, Jinhae-gu, Changwon-si, Gyeongsangnam-do, South Korea
Yeojwacheon Stream's Cherry Blossom Road
Address: Area of Yeojwa-dong, Jinhae-gu, Changwon-si, Gyeongsangnam-do, South Korea
Yangjaecheon Stream
The Yangjaecheon Stream Cherry Blossom Festival is being held here.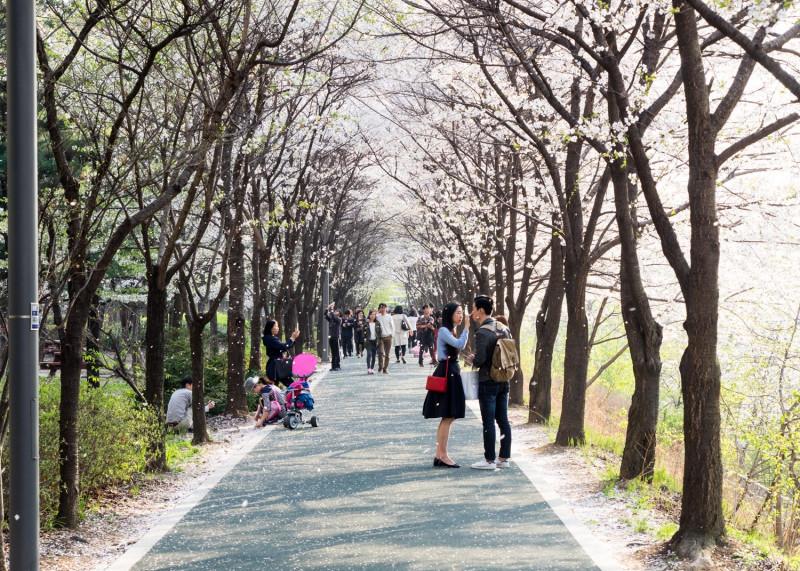 Address: 3 Mabang-ro 4-gil, Seocho-gu, Seoul, South Korea
How to get there: Take Shinbundang Line and get off at Yangjae Citizen's Forest Station then, exit via Exit 1 or 2.
If you're planning to visit the country in spring, prepare you're OOTDs and capture lots of beautiful photos of the spring flowers, as well as amazing pictures of yourself with the captivating blossoms as your background.
So, what are you waiting for? Come, see, capture and mesmerize by the beauty of spring. Visit Korea and walk among the blossoming spring flowers and see South Korea at its finest. Enjoy!
Thank you for reading my articles! You can also see more of my Korea Travels here and on my IG!