Apgujeong is perhaps the last place in Seoul where i thought i would find street art! Let alone a street art tunnel. Apart from the murals which serve to brighten up the old quarters, graffitis are rare in South Korea, except the popular ones in Seongsu-dong.
A sanctioned place for Graffitis
It is a sanctioned area for graffiti, with signs listing some rules and regulations on what street artists can do here.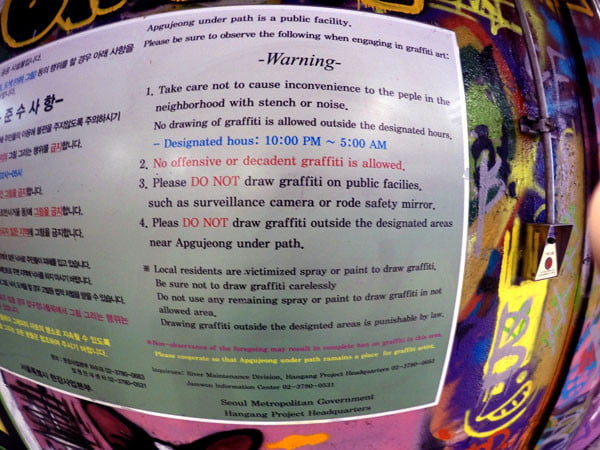 On a bright day, the lined walls take you down to the Hangang, where you'll find avid cyclists and a beautiful view of the water. When walking through the labyrinth, it is apparent that all is well-organized, this in no way diminishes the artists' abilities. The tunnel leads to the Han River's side; take a short stroll along the water's edge for a unique view of the capital.
It is an interesting space for creativity and why not instagrammable pictures?
Location
This tunnel is located in a trendy, young and very pleasant district, with an eye for luxury brands. Hence its name "Apgujeong Rodeo" largely inspired by Rodeo Drive in Los Angeles.
On the Han River side, the entrance of this tunnel is not far away from Seongsan Bridge [성산대교].
Geolocation: 37.530622, 127.041728
Getting there
Apgujeongrodeo Station [압구정로데오역], Bundang Line, Exit 1
Walk straight for around 10 minutes in the direction of the Han River until you come to the t-crossroad seen in Suits — and it's right here.
A variety of street art
This tunnel is truely a place of expression for artists of different styles. You can find old school graffitis as well as beautiful portraits of famous actors or singers!
A popular k-drama location
It took me some research to find it but i knew that this tunnel was very popular, let me refresh your memory. You might have seen it in dramas like Good Casting (굿캐스팅) (SBS, 2020) and in Another Miss Oh/Another Oh Hae Young/Oh Hae-young Again (또! 오해영) (tvN, 2016). The tunnel was also the location of various Music Videos.
If you love art you should give it a try, or check out other popular spots like Seongsu-dong: