The Korea Disaster Relief Team (KDRT) dispatched to Turkiye (Turkey) to help victims of the devastating earthquake there on Feb. 9 rescued 5 people on the first day of its search-and-rescue mission.
The Ministry of Foreign Affairs in Seoul said the KDRT saved its first person that day around 6:30 a.m. just 90 minutes after starting its mission, pulling him out from the rubble of a collapsed building near a high school in Antakya.
In a regular media briefing, a ministry spokesman said, "A man in his mid-70s was rescue," adding, "We confirmed that he was conscious and had no major health problems."
The KDRT also rescued a 40-something man, his two-year-old daughter, a 35-year-old woman and a 10-year-old girl. The woman had a fractured finger but the five were reported to be in relatively good health.
Comprising 118 members, the KDRT has one official from the Foreign Ministry, 49 from the Ministry of National Defense, 62 from the National Fire Agency and six from the Korea International Cooperation Agency. The team chose Antakya, which borders Syria and is the capital of the southern Turkish province of Hatay, for its mission site at the request of the Turkish government and set up a base camp on Feb. 8 at Selim Anadolu High School.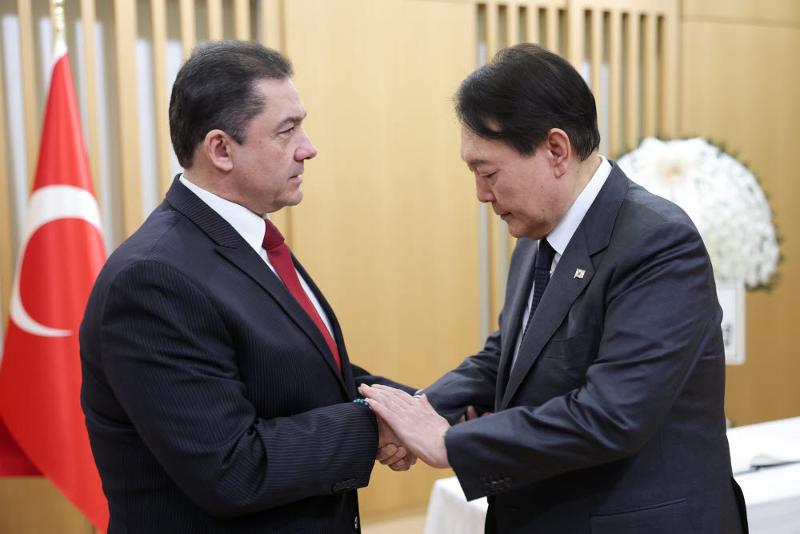 Meanwhile, President Yoon Suk Yeol on Feb. 9 visited the Turkish Embassy in Seoul to express his condolences for the victims of the earthquake, presidential spokesperson Lee Do-woon said.
Speaking to Turkish Ambassador to Korea Salih Murat Tamer, the president said, "We will do our best to help the people of Turkiye overcome their frustration and sadness and rise again," adding, "I received a report from our rescue team at the site that the situation is dire and extremely difficult, but that they will do their best to conduct rescue operations. After a certain period, another rescue team will be sent on a rotating basis."
The ambassador thanked the president and said, "I feel brotherly love toward the Korean government and people for helping Turkiye when we absolutely needed it," adding, "I will never forget this."
The Office of the President also said staff members including President Yoon collected KRW 32.61 million in donations for the quake victims in Turkiye and Syria and send the money to the Korean Red Cross.