Expats like foreign news correspondents and diplomats this year can enjoy Korean culture through all five senses not only through K-pop and gugak (traditional music), but also the nation's taste, style and relaxation such as culinary culture and virtual stage experiences.
The Korean Culture and Information Service (KOCIS), an affiliate of the Ministry of Culture, Sports and Tourism, on April 13 launched a series of five programs this year titled "The Senses of K-Culture" with the Korea International Broadcasting Foundation, which operates Arirang TV.
The programs are geared toward expats like foreign news correspondents and diplomats to allow them to experience a wide variety of Korean culture.
Since 2015, KOCIS has hosted "Global K-Culture Concert: Hello K" for foreign audiences to promote musical genres like K-pop and gugak to foreign audiences. This year's programs were reorganized into "The Senses of K-Culture" combining gourmet culture and hands-on activities for a wider diversity of Korean culture like food instead of simply watching performances.
The title "The Senses of K-Culture" means seeing the nation's "beauty" through performing arts, relishing "taste" through enjoying food and drink, and "rest" that combines the grace of architecture with relaxation of nature and interactive programs.
First was "Midday Concert" held at the National Theater of Korea for 80 spectators including foreign correspondents in Korea and Honorary Reporters of Korea.net. Blues singer Kang Huh Dalrim was the featured "Midday Star" and sang "Okay Blues," "Waiting, Touching" and "Hold Me Tight" accompanied by background music adapted for gugak instruments.
The audience after the concert took part in a Q&A with Yeo Mi-sun, head of the National Orchestra of Korea and a soloist in the performance, to learn more about orchestral gugak and traditional wind and string instruments.
The participants moved to Namsan Mountain for a Korean-style lunch. They also took part in the program "Moving Poster" as its character at the virtual reality interactive zone of Byeolbyeolshilgam Theater. They put on stage costumes and makeup to take part in virtual concerts.
KOCIS Director Kim Jangho said, "Through this reorganized program, we hope that expats in Korea can vividly and deeply experience K-Culture and share their positive experiences here when they return to their homelands."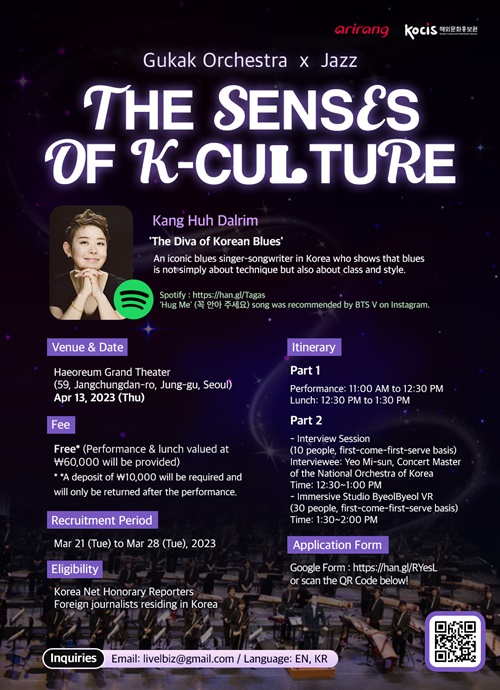 CONTACTS: ess8@korea.kr
View original content to download multimedia: https://www.korea.net/NewsFocus/Culture/view?articleId=231349