Do you want to see a French-inspired village in South Korea? Well then, you should visit Petite France. Petite France is a small and unique French-style theme park constructed in the year 2008 in Gapyeong, Gyeonggi Province, South Korea. The village is composed of souvenir shops, cafes, restaurants, special galleries, outdoor theaters, and museums such as traditional French houses, dollhouses, and antique shops.
Performances, Shows, and Events
Here, you'll get a chance to watch Guignol, a traditional French hand puppet show, and Marionette, a traditional Czech string puppet show.
Also, they present a Marionette Dance Performance and Orgel Demonstration where you'll get to acknowledge and enjoy music from Orgel.
Another is, the Little Prince Lighting Festival in Petite France. It is usually held from December to February. This festival also features various events such as orgel performance & explanation, marionette performance, puppet performance, magic performance, and plaster art experience. During this festival, you will be amazed by the beautiful lighting views of the Petite France park at nighttime.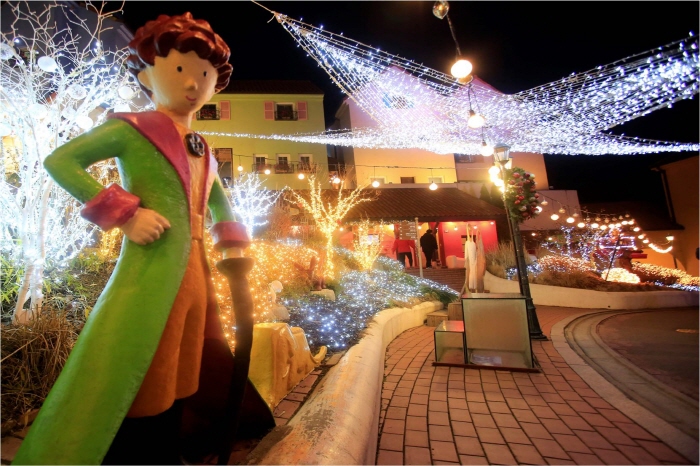 Fun Things to Experience
Not just for sightseeing, there are also tons of things to do in Petite France. You should try the Plaster Art and Powder Painting, where you can make your own Petite Prince and take it home with you as a souvenir. Other fun things to experience are the following; capture a variety of scenes in photo zones, play traditional French games as well as hang the Petite cloche containing your love message on a baobab tree, and more.
Korean Dramas and Variety Shows Filmed Here
The hit drama, My Love from the Stars, filmed some of their fluttering scenes here. It was aired in early 2014, starring the handsome Kim Soo-Hyun (Do Min-Joon) and versatile actress Jun Ji-Hyun (Cheon Song-Yi). It portrays the story of an alien who landed on Earth and a top actress, falling in love with each other. The drama was such a great hit that it gained popularity throughout the world and not only in Korea. You can also get a glance at the clothes which the main lead wore in the drama. It is displayed in a room where visitors will able to see. In addition, it is also a filming location of the popular k-dramas Beethoven Virus (2008) and Secret Garden (2011).
Another one, Running Man, a South Korean variety show, where running man members and guests were to complete missions at a landmark to win the race. They filmed their humorous and entertaining episode 40 here. Nickhun and Taecyeon from 2PM (K-pop group) were the guests, dressed in traditional french clothing. You will also notice a portrait of the Running Man casts and guests in one of the buildings here.
Petite France is one of the most popular tourists' spots to get away when you want to head out of Seoul. Come and head out to this cute and colored French-style village in the mountains of Gapyeong. Petite France, an ideal destination not just for kids but for all ages. Enjoy!
Address: 1063 Hoban-ro, Oeseo-myeon, Gapyeong-gun, Gyeonggi-do, South Korea
Opening Hours: 09:00 am ~ 6:00 pm (No Holidays)
Entrance Fee:
Adults : 10,000 KRW
Teens : 8,000 KRW
Children : 6,000 KRW
* Depending on seasons and weather conditions, opening and closing times for Petite France are subject to change.
How to get there:
By Express/Intercity Bus: Take a bus bound for Cheongpyeong Bus Terminal from Dong Seoul Bus Terminal or Sangbong Bus Terminal. And then, from Cheongpyeong Bus Terminal, take a local bus bound for Goseong-ri. Or,
By Train/Bus: From Seoul, take the subway/ITX bound to Cheongpyeong Station, then exit via Exit 2 and find the local Gapyeong Circle Bus which, will get you to Petite France. The bus will take about 30-40 minutes. The bus also stops by Nami Island and Garden Of the Morning Calm.
Thank you for reading my articles! You can also see more of my Korea Travels here and on my IG!