One of the activities that everyone should do during the trip in Jeju Island is, of course, to see the beauty of canola flowers during the spring season. Well, Jeju Island is well-known for its mesmerizing canola flowers that start to bloom at the end of winter and last throughout the spring season. Those flowers can be easily found everywhere in Jeju as they are known to grow well on Jeju's barren soil (in fact, canola flowers have been planted since the 1960s)! Hence, it is indeed a must to witnessing them blooming breathtakingly into bright yellow color, and there are some spots that might give you the best experience of it.
1. Gasiri Wind Power Plant
Well, the first one is actually a hidden gem, since not a lot of people have even heard of this beautiful spot! Gasiri Wind Power Plant is located along Noksan-ro in Seogwipo, which is known as a road full of canola flowers. Stretched about 10 KM, this road is really picturesque and mesmerizing!
Since it is supposed to be a private area, you can only go there by a car or a cab as there is no public transportation available. Once you arrive at the spot, it is rest assured that you would be amazed by the field full of blooming yellow canola flowers alongside some wind power plants and the clear blue sky – much more breath-taking and panoramic that pictures can even show you.
Not to mention the wide meadow alongside numerous horses that would make you feel refreshed as if you are in a different part of the world; definitely a must-visit place in Jeju Island!
Address: Noksan-ro Canola Flower Road, San 51-1 Gasi-ri, Pyoseon-myeon, Seogwipo, Jeju-do, South Korea
2. Sanbangsan Mountain
The second place that you must visit for canola flower scenery is the canola fields at Sanbangsan Mountain in Seogwipo. Sanbangsan rises to 150m above sea level, and it looks down on Yeongmori Coast. It is a considerably more popular spot than Gasiri for a canola flower tour.
It is quite easy to get there since there are various bus routes connected to Sanbangsan. From Jeju Intercity Bus Terminal, you can take bus 705-1 or 702, which will take approximately an hour.
There are some canola fields that tourists can enter there. In the first field, a grandma will ask you to pay a small amount of money to get into the field. Tourists can take pictures of canola flowers with a background of the mountain. However, expect to be photobombed since there are usually many visitors in the afternoon.
Meanwhile, in the second field, you do not have to pay for the entrance fee as the first field. The canola flowers here are as good as the first one too, but the view of the mountain is blocked by a café.
Sanbangsan is definitely a worth-to-visit destination for tourists, especially in spring!
Address: Sanbang-ro (Sagye-ri), Andeok-myeon, Seogwipo-si, Jeju-do, South Korea
3. Udo Island
Udo Island, which is a small island in the most eastern part of Jeju, has a lot of canola fields that you can enjoy! In order to go to the island, you must ride a ferry for 15 minutes from Seongsan Harbor, which departs every 30 minutes.
Not only you can enjoy the beauty of the canola flowers, but also the breathtaking scenery of the island that would blow your mind away. The scenic beaches, lighthouses, and peaks would undoubtedly make your canola sightseeing experience worthwhile and unforgettable!
Read more
4. Jeju Canola Flower Festival
Other than those fascinating spots, there is also an annual festival that you can attend to view the beauty of canola flowers in spring! It is named Jeju Canola Flower Festival, and it is regarded as one of the most popular festivals in Jeju Island. Usually held in early April, the visitors can take in the beauty of the blooming bright yellow canola flowers while enjoying a variety of events that would show you the uniqueness of Jeju Island (e.g. dances, music shows, etc).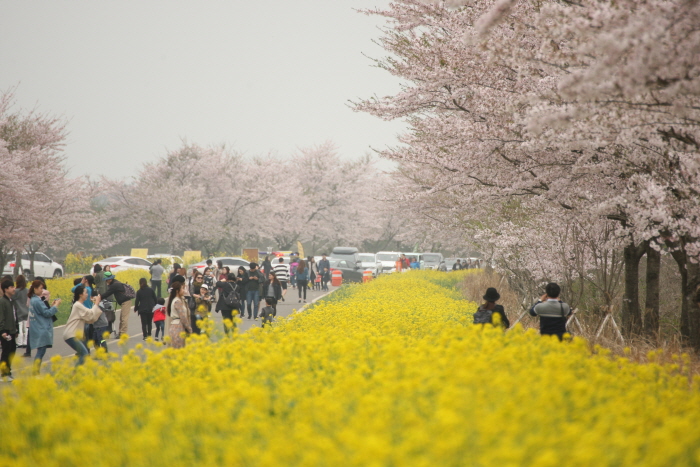 This festival usually attracts a large number of visitors every year. The best venue for this festival is the famous Noksan-ro, where you can see a bunch of canola flowers along the street. On the other hand, Udo Island is also usually considered as a good spot to watch the festival.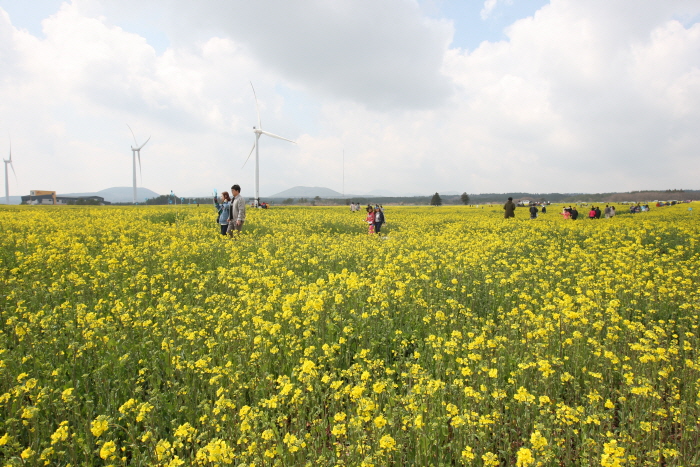 Those are the canola flower spots and festival that must be visited during the spring season in Jeju Island. They are easy to be accessed, and of course, very cheap or free entrance fee! Hence, there is no reason to not visiting them while you are in Jeju Island.