To clarify, there are two Goseong regions in South Korea: one in Gangwon and another one in Gyeongnam. The one in this article is Gangwon's Goseong. It is a region that was split when the 38th parallel was established as the border between north and south Korea. Portions of it are in South Korea, the DMZ, and North Korea.
DMZ vs 38th Parallel
To summarize, the US troops carelessly drew the 38th parallel line as the border between North and South Korea after Japan's surrender in World War 2. Families were suddenly separated by the drawing of this line, and some properties were literally split down the middle of the border.
This line was drawn due to post-war confusion about Japan's colonies. The two major world powers were the US and (then) USSR, and they did not know what to do with Korea. The USSR already had diplomatic and historical ties with the Northern part. For those who do not know, some of the historic boundaries of Korea were in the USSR, and there are many ethnic Koreans who have lived in Russia for thousands of years. However, the United States had also been trying to gain territory in Korea for decades, including an attempted invasion in the late 1800s. As a result, they suggested dividing the territory temporarily. Thus, without knowing anything about Korea's long history, they callously drew a straight line on the map.
Long story short, the Korean War broke out and reached a stalemate around the existing 38th parallel. From then on, the DMZ border replaced the straight 38th parallel line and acted as a 'buffer zone' between the two Koreas.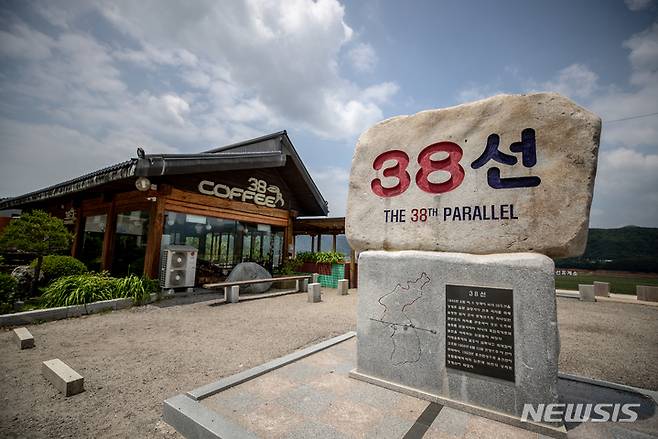 Before the Korean war, there was a large part of South Korea's Goseong that was in North Korea. That's why it's one of the few places where you can actually see North Korea, and you can visit some interesting places, like Kim Ilsung's summer house. For a thorough experience, I'd suggest an overnight trip to these places by car (no public transportation).
DMZ Museum
The DMZ Museum was opened in 2009 and it is pretty big, with an outdoor and indoor area. Entry was free, except for the outdoor area. I remember how I wished I could spend a longer time due to how big it was.
The museum was very comprehensive in explaining the history of the Korean War, and decades of separation. The War Memorial Museum in Noksapyeong was more thorough in the explanation, but this DMZ museum was also great.
It had an exhibition of DMZ development after the war, explaining that it has become a massive ecological park. I find it fascinating that the 250-kilometer borders have accidentally turned into a forest with rich biodiversity.
The most interesting exhibit for me is the collection of propaganda pamphlets from both Koreas. They dated back from the post-Independence era (1945) to the aftermath of the Korean War. Both sides tried to convince Koreans to live on either side. North Koreans tried to sell a socialist utopia, while South Koreans persuaded people with 'freedom' and 'liberty' using photos of women in bikinis.
Unification Observatory
I've heard people say that Geumgang Mountain is one of the prettiest Korean mountains. Unfortunately, the mountain now belongs to North Korean territory. South Koreans can no longer visit. When the Geumgang Tourism project was ongoing between North-South, some South Koreans were lucky enough to visit. But this program was halted during the Park Geun-Hye administration because a North Korean soldier shot a tourist for going beyond the designated area.
Now the Unification Observation is the closest place South Koreans can get to Geumgang Mountain. You can see it in good weather. I do not recall a memorable exhibition here, and the DMZ museum has better exhibits about the Korean War and Unification. However, the view from the observatory tower was stunning. I could see a beach nearby, a highway (supposed to connect North-South), and a mountain range. I couldn't see the famous Geumgang Mountain due to the cloudy weather, but the view was pretty regardless.
The admission fee is around KRW 3,000 for adults and KRW 5,000 for the parking fee. I remember there is also a gift shop selling, and displaying North Korean won. It was interesting for me because Korean museums' gift shops (even in the DMZ) usually do not sell things related to North Korea. It's probably because of the national security law, so finding North Korean won on this side of the border was fascinating to me.
Kim Il-Sung's Summer House
Yep. The founder of North Korea had a summer house in South Korea. The summer house is located on top of a hill and right beside Hwajinpo beach, so it has a killer view. The house only has two stories and it is not big, so it only took less than one hour to explore.
The house is now a small museum about Kim Il-Sung and North Korea. There are some of his belongings still on display in this house, as well. The South Korean government apparently kept his former room intact and exhibited the belongings he left behind.
Interestingly, a few minutes' drive from his summer house, you can find the house of Rhee Syngman, the first president of Korea (both). They were known as political 'rivals' during the early days of both Koreas, but they were pretty much neighbors! Well, at least for the holidays.
Rhee Syngman's house was more like a retirement home with a big garden and a lake nearby. Just like Kim Ilsung's house, his belongings were preserved there. It was a small house so it took 30 minutes to tour around the house, as there was not much to see, except for his room and living room. They have some realistic figures of Rhee and the first lady (an Austrian woman) sitting in the living room.
Jejin Station
People might know about Dorasan Station, but few will know about Jejin Station. This station is part of the Donghae Line project, which is another Inter-Korean Unification project. It is the northernmost station in South Korea, and only 10 kilometers away from Gamho Station, the southernmost station in North Korea. Jejin Station is only 27 kilometers away from Geumgang Mountain, and you can still see Mount Seorak from here, too.
Have you ever heard about family reunions? Well, families who were separated in the Korean War had a once-in-a-lifetime chance to meet their family members in the Inter-Korean Transit Office at the Jejin Station.
While Dorasan Station has an old-ish feeling, Jejin Station was modern and completely new. Inside the station, the photos of former President Moon Jae-In and Chairman Kim Jong-un were on display everywhere.
Former president Moon Jae-In also planned to continue the reconstruction of the Donghae Line as a part of the Inter-Korean Summit agreement in April 2018. Unfortunately, the reconstruction fell through, as did the agreements. The station is entirely set up with a train waiting on the tracks for a day when the two countries see peace.
Conclusion
Goseong-gun in Gangwon Province offers both history and stunning scenery. It's totally worth a visit, but it is not so easy to get around there without a car. I would highly suggest finding a tour there, or a customized tour, to go around the DMZ spots there. You can also rent a car and drive around there while enjoying the breeze of the Eastern Sea.
Want to visit more DMZ destinations? Click Here to learn about some of the most visited destinations along the border.