The Royal Palaces and Tombs Center of the Cultural Heritage Administration on March 29 said the 2023 Spring Gyeongbokgung Palace Night Tour will run from April 5 to May 31.
Visitors can experience a beautiful spring evening by walking around the palace's buildings: Gwanghwamun Gate, Heungnyemun Gate, Geunjeongjeon Hall, Gyeonghoeru Pavilion, Sajeongjeon Hall, Gangnyeongjeon Hall, Gyotaejeon Hall and the area around the mound Amisan.
In and around Gyeonghoeru, where royal banquets were held, are views of the beautiful shape of the pavilion reflected in the pond and decorated with cherry blossoms blooming in spring.
The Amisan mound area in the backyard of Gyotaejeon Hall offers a night mood with spring flowers in full bloom decorated with soft lights.
Ticket sales for the tours next month will begin on March 29 and those in May from April 26 on the e-commerce platform 11 Street (https://ticket.11st.co.kr).
The daily sales limit is 2,700 tickets — 2,500 reserved online and 200 bought on-site — with a limit of two per buyer. Admission is KRW 3,000 per person.
Foreign visitors can purchase tickets on-site at the ticket box located at Gwanghwamun Gate and must show ID like a passport.
Admission is free for visitors wearing Hanbok (traditional clothing), figures of national merit and their spouses, severely disabled people and their companions, mildly disabled people, children aged 6 or younger and senior citizens aged 65 or older.
The opening hours are 7 p.m. to 9:30 p.m., with the last entry at 8:30 p.m. The night tours are closed on Mondays and Tuesdays and from April 26 to May 2 for preparation and performances of events at the Court Culture Festival.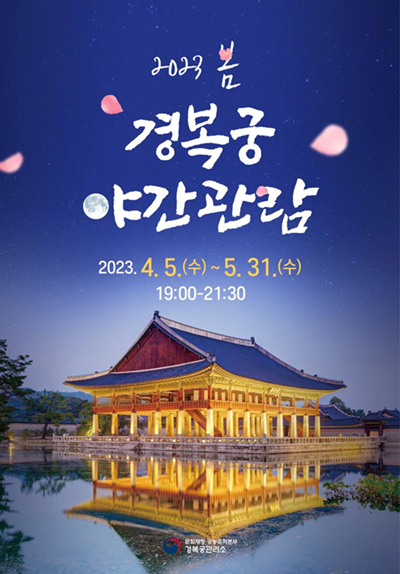 CONTACTS: hinn11@korea.kr
View original content to download multimedia: https://www.korea.net/NewsFocus/FoodTravel/view?articleId=230615