Yeonnam-dong (연남동) is best described as Hongdae's (홍대) quiet and sophisticated cousin. If you are a frequent visitor to Hongdae, then you must definitely check out this place! (as it is only a short trek from Hongdae) This place is filled with dozens of restaurants, cafes, book stores, etc. And the best thing about this place? Its atmosphere – quiet and peaceful.
How to get to Yeonnam-dong
By subway: This place is easily reached by going to Hongik University Subway Station and taking exit 3. It'll drop you right beside the Gyeongui Line Forest Park and from there you can follow the alleys and streets to find the nearby cafes and restaurants.
In today's post, I would like to share some of my top spots in Yeonnam-dong. You guys have probably heard of some famous places like the cartoon cafe and Cafe Layered that are situated over here. Well, just keep on reading, because I'll be sharing some of the secret places I've discovered.
Bear's Den (베어스덴)
Are you brunch person just like me? Then this is definitely a must go. Bear's Den is famous for its baked goods, especially their breads. Many customers either came here to enjoy brunch or just to get their baked goods to-go.
There were so many things to choose from the menu. I got the French toast brunch set which came with 3 little French toast, some breads, bacon and sausages, and salad of the day. This set version also came with a drink. It was really delicious and the portion was just enough too.
However, there aren't that many tables, so this wouldn't be a good place for a group to gather, but it's perfectly nice for having brunch alone or with a friend.
Location: 441, Changcheon-dong, Seodaemun-gu, Seoul 1-2F
Business Hours: 11AM – 9PM everyday(until 8PM on Sun) | Closed on Mon
Gelateria Eta (젤라떼리아 에따)
Hidden deep inside of Yeonnam-dong, there is a small cafe that offer 100% homemade Gelato. What's so special about them is that their Gelato are all made with natural ingredients and they are even vegan & dog friendly!
Good news to all the alcohol fans out there: there is even a Jackdaniel Chocolate flavor Gelato! I've tried it once and I definitely must say: this won't be the last. Their Creme Brulee was nice too, but Jackdaniel Chocolate was the winner for me.
You can have two choices of flavors for each cup. Besides, if you have any problem choosing the flavors, don't hesitate to ask the shop owner (because that is basically what I did). Do drop by here if you are visiting Yeonnam-dong.
Location: Seoul, Mapo-gu, Seogyo-dong, World cup buk-ro 4-gil, 44 JK building 1st floor
Business Hours: 12PM – 9PM everyday (until 10PM on Fri & Sat) | Closed on Mon
Kam Namu Jib Taxi Driver's Restaurant (감나무집기사식당)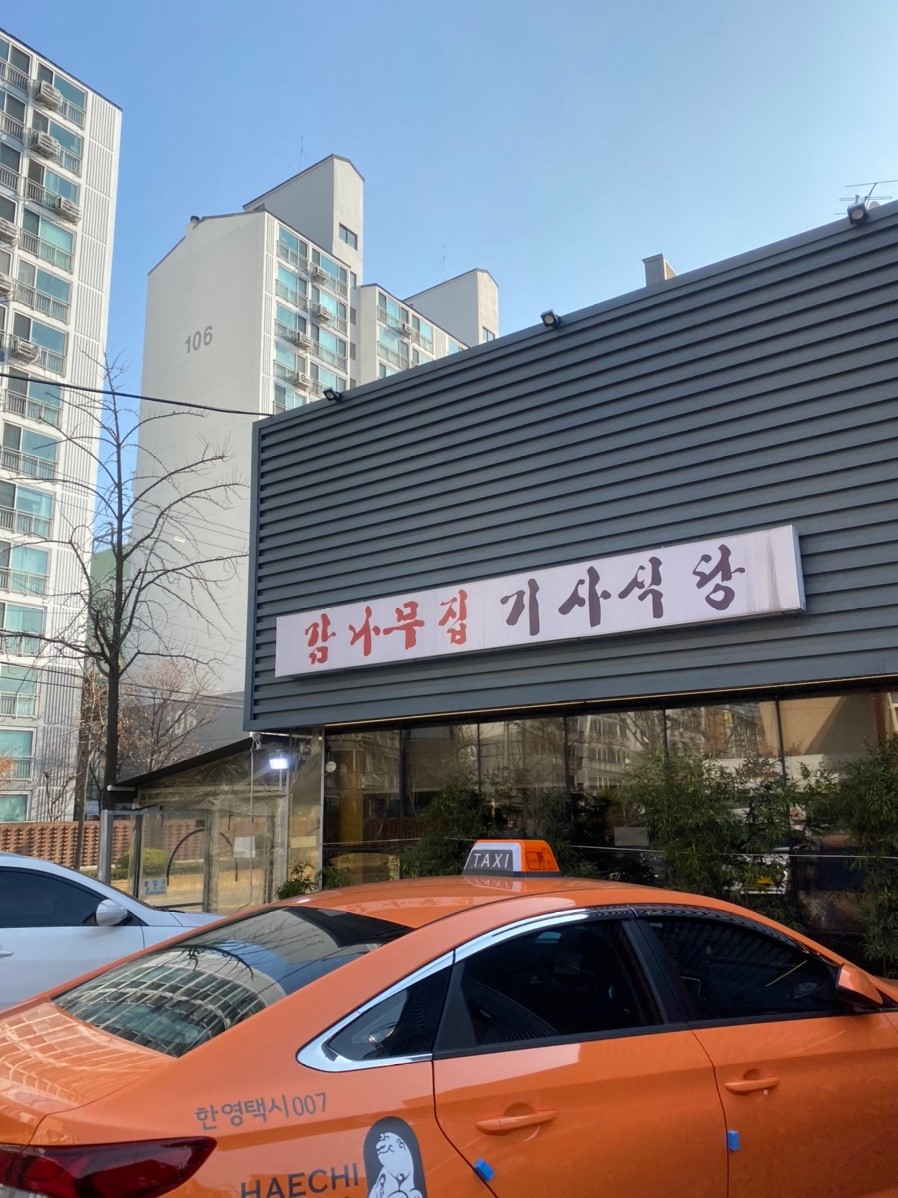 Taxi Drivers have their pick of the land in Korea and where they eat the food is often as authentic Korean as you'll find. Anyway this restaurant serves really good stir fried pork and fish stew. Not to mention this restaurant became really famous after its appearance in a Korean reality TV show '무한도전'.
First of all, the portion was HUGE. Best to come here with empty stomach and be ready to be wow by the taste. Also, if you are a big eater, fear not, all of the side dishes are refillable. Overall, great taste and affordable. 10/10 from me.
Location: 25 Yeonnam-ro, Yeonnam-dong, Mapo-gu, Seoul
Business Hours: Open 24 hrs everyday
Cafe 105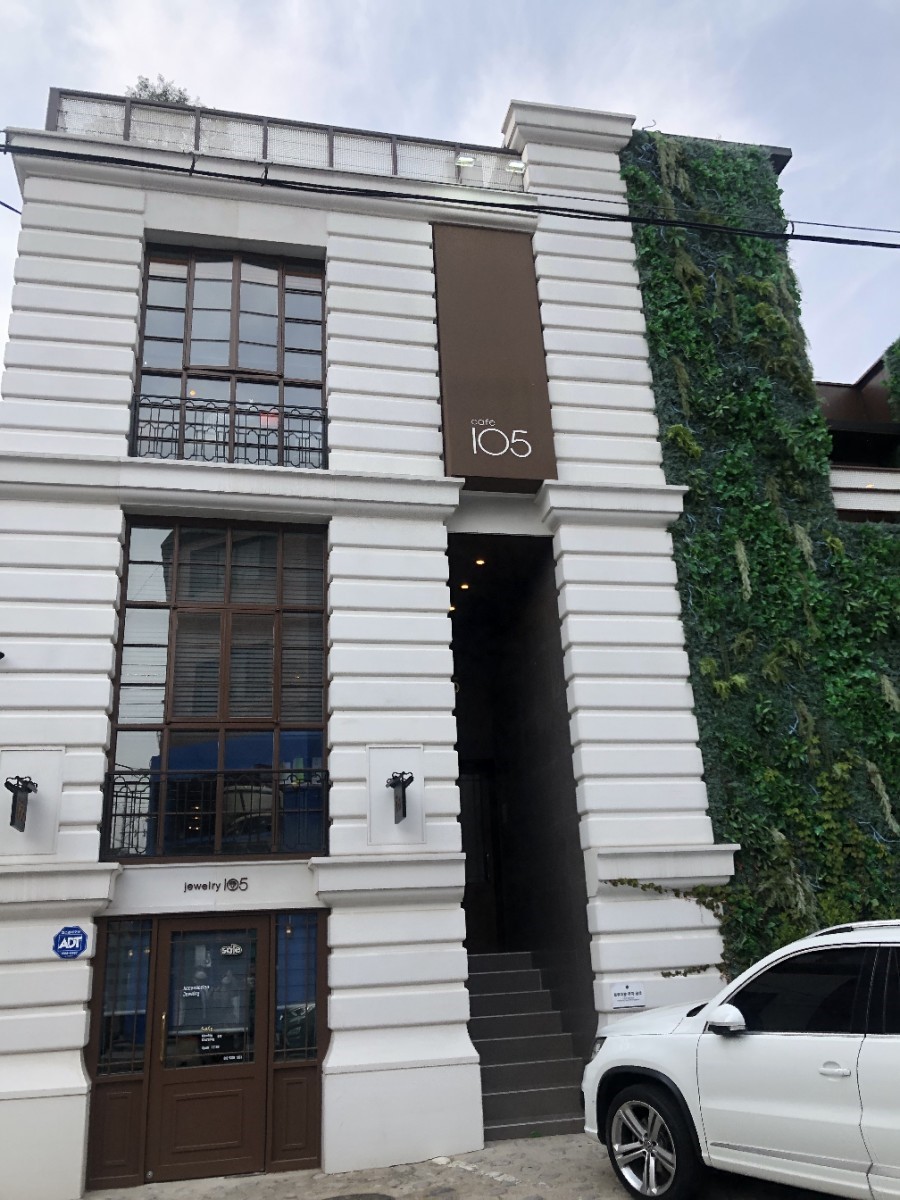 Another hidden gem in Yeonnam-dong. Despite its huge size, not many people know about this cafe as it is hidden deep inside. This place is famous for its chocolate drinks and desserts. Of course, the other menus were great too but for beginners, definitely must try out their chocolate menus.
I was surprised at first when I saw how concentrated their chocolate drinks were (there were two options – Dark Chocolate 72% or 80%). I'm a big fan of dark chocolate so I went with the more concentrated one. First sip of their drink, it was the perfect amount of bitterness and sweetness. Their cake was good too, but just a bit small for the price.
Location: 509-4, Yeonnam-dong, Mapo-gu, Seoul 1-2F
Business Hours: 10AM – 10PM on weekday | 11AM – 11PM on weekend
Chef Park's Sushi (박용석스시)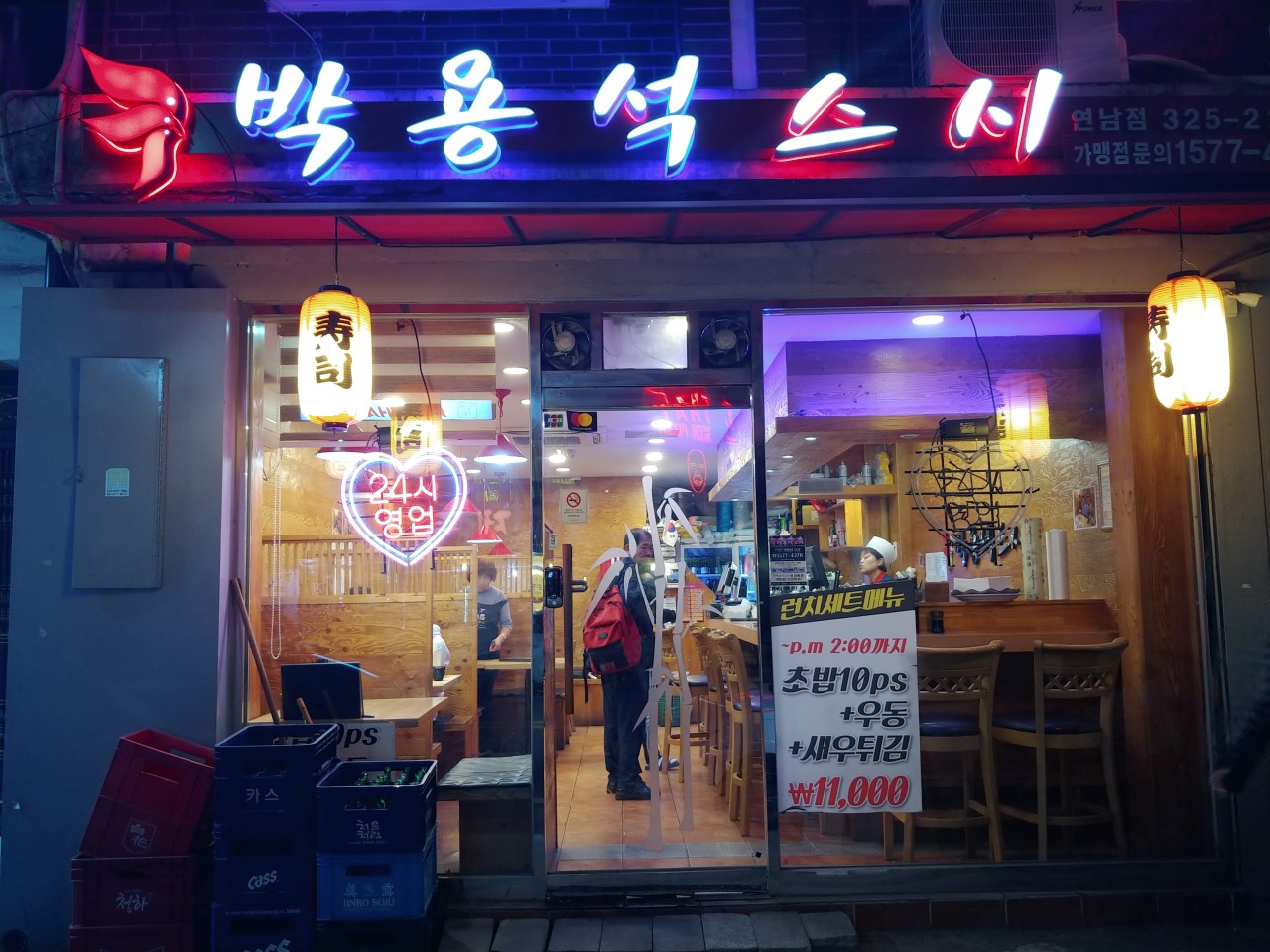 I mean, who doesn't like sushi? Well, this sushi restaurant is not just any typical store. It is open 24 hours! For a sushi fan like me, this place is like heaven as I get to have sushi at any time I want.
All of their sets comes with free udon noodle and shrimp tempura. Their Sashimi were really fresh and even their wasabi were freshly made(spicy though). Besides, if you don't like raw Sashimi, there were even an all-cooked option for their sushi sets. Best to enjoy with some Sake or Soju.
Location: 205-17, Donggyo-dong, Mapo-gu, Seoul
Business Hours: Open 24 hrs
Read more: Hongdae street, the best cheesecake cafe & Italian pizza restaurant