Seoul in undeniably the capital of coffee shops of all kinds. Depending on the neighborhood you're strolling around, you can find different cafe concepts from popular chain stores, hidden cozy cafes to luxurious cafes in Seoul.
"It has became important for luxury brands to present the lifestyle that their customers, who hold their bags or wear their clothes, want to pursue,"

Song
On this week's article, i will introduce you to the fanciest places where you can have coffee in the city of Seoul. If you are fancy or perhaps curious, let me take you in this expensive journey!
Cafes owned by Luxurious Brands
The Cafe Dior by Pierre Hermes
The Cafe Dior by Pierre Hermes, located on the top floor of Christian Dior's flagship store in the affluent district of Cheongdam-dong, Seoul, has become a haven for selfie lovers and shoppers since it opened in May 2015.
A must-visit place for all fashion lovers, this cafe takes you in the universe of the brand. The interior is very minimalistic and classy, complemented by the white tulip facade of the building which fascinates many tourists.
On the menu, pastries made by the celebrated French pastry chef Pierre Herme offering more than 20 kinds of dessert at the cafe. Desserts cost from 24,000 won ($17.60) for a vanilla millefeuille to 55,000 won for Sensation Chloe, a dessert set for two persons. And the coffee ranges around 68$. Quite pricy i shall say but not for the many customers who come in to savor the cafe's popular Ispahan macaron and cake with a complex flavor of lychee, rose and raspberry.
Cafe dior
Address: 464 Apgujeong-ro, Cheongdam-dong, Gangnam-gu, Seoul
Tel: +82-02-513-0390
Subway: Apgujeong Exit 3
Cafe Madang by Maison Hermes
Another luxurious cafe made by no other but Maison Hermes!
According to The Korea Herald, Cafe Madang is the number one rival of cafe Dior in terms of culinary offerings. The cafe is located at the basement of Maison Hermes Dosan Park in Sinsa-dong, Seoul. The cafe, which opened in 2006 when the Hermes flagship store opened its doors, was refurbished in 2014 to reflect Hermes' major design motifs such as elegant leather surfaces and color patterns. 
All dishes, ranging from light salads to filling main dishes and desserts, are served on Hermes tableware, featuring Hermes' signature Chaine D'Ancre pattern, based on the Hermes bracelet created in 1938.
The interior is elegant and reflects well the image of the brand. The place offers dining options as well as cafe with deserts. Many come for their famous afternoon tea set that serves an assortment of sweets and savory finger food for 2 at price of 58,000KRW.
Hermès Cafe Madang
Address: 서울 강남구 신사동 630-26 (630-26 Sinsa-dong Gangnam-gu Seoul )
Tel: +82-2-3015-3208
Subway: Apgujeong Exit 3
Nudake by Gentle Monster
The latest trendy cafe in Seoul! Their popular desert is already all over instagram~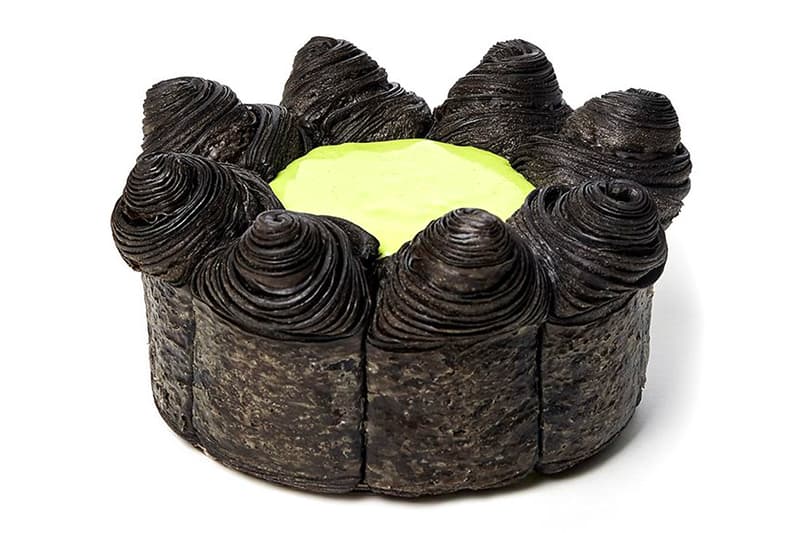 Situated in Apgujeong's HAUS DOSAN, a building spanning five floors of the dessert label's cafe, along with Gentle Monster and its cosmetics brand tamburins.
Standout items found on the menu include the Peak Cake (a black pastry crust filled with rich matcha cream), the Pine Cone (a white four-tier cake in the shape of a pine tree) and the Fog Cake (a treat covered with black-to-white gradient coloring).
Take a look at all the sweet offerings above ahead of the official opening of NUDAKE's Seoul flagship February 24.
Nudake Seoul Flagship, HAUS DOSAN
Address: Apgujeong-ro 46-gil 50, Gangnam-gu, Seoul
Song Bo-rah, a senior fashion news editor at Vogue Korea magazine said that Luxurious cafes and restaurants draw customers who may not be able to afford clothes and accessories at luxury brand stores, but who still want to enjoy the sophistication of the brands. And i couldn't agree more, i also find it interesting from a Marketing point of view how the brand extends its image to the culinary world.
Stay tuned for more articles in this sense and let me know in the comments if you ever visited a luxurious cafe and how was your experience?