There are a lot of things you will need to adjust to when you move to a new country. No matter where you are coming from, even another Asian country, you will run into some things that you've never experienced before. Here are some everyday peculiarities you will experience in Korea.
Introduction
Even if you are from somewhere else in Asia, coming to Korea means that you will sometimes encounter peculiarities. As expats, we must constantly reorganize our thoughts and rearrange the way our brain works to understand the place we now call home. So if you haven't started doing this yet, I'm officially passing it on to you. And to help you, here are some things that happen commonly in Korea that may not happen where you are from.
Showing Respect
It's common knowledge that Korean society is based on respect, but the way respect is shown is not universal. And, the way Koreans express respect might surprise you.
For example, when Brazilian people want to be polite, we speak and act in ways to show compassion and kindness towards others. For Koreans, on the other hand, the level of politeness is perpetuated by speech and specific actions. In Korean culture, respect is shown by elevating others, and by putting yourself down. Some of the common expressions of Korean respect are as follows.
When speaking:
In Korean, levels of vocabulary and grammar are used to express respect and politeness. The way people speak changes in order to pay respect to the people you are talking to, and the people being talked about.
Certain ways of speaking should be avoided when talking to people older than you, or who have a higher status. When you first learn Korea, you will learn the three basic levels of formal speech conjugations. However, as you progress, you will find that there are actually dozens of different grammar and vocabulary changes that occur based on the social situation.
When Drinking:
The steps you need to take in order to not offend someone while drinking are extensive!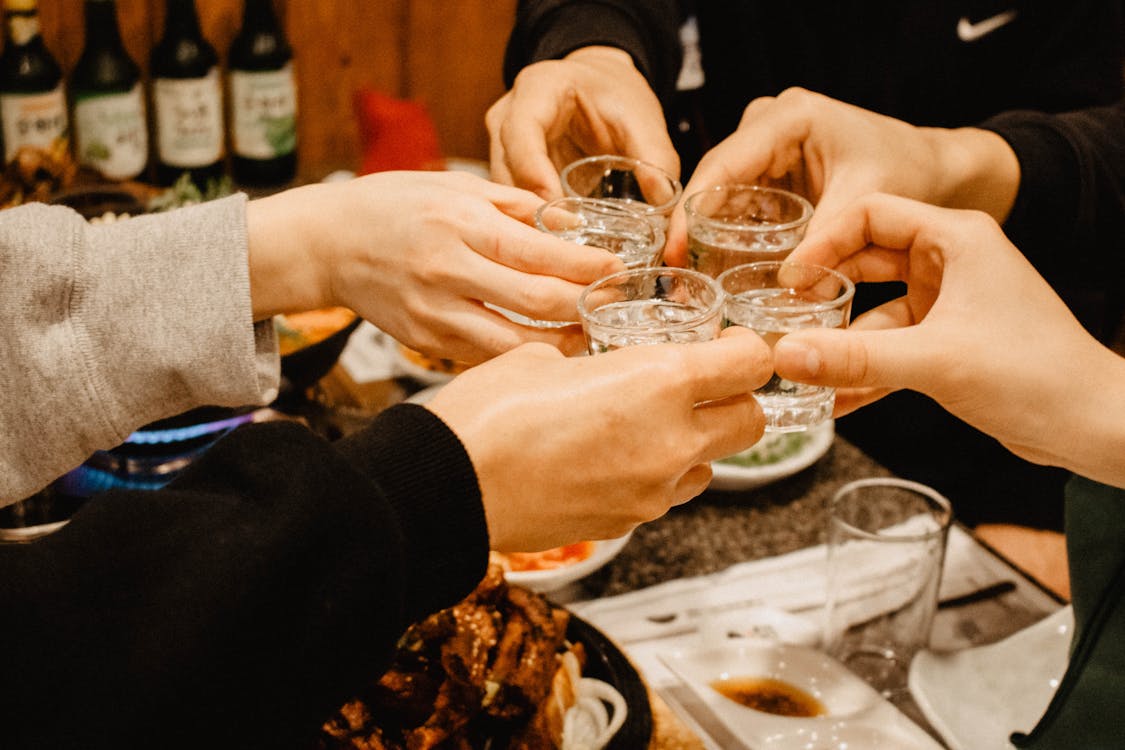 You cannot face people who are older or have a higher status when drinking. Instead, you need to turn your face away from them. But, what if you are sitting at a table with older people in front and on both sides of you? Well, that's a really awkward situation. You will just have to choose the one you can afford to offend.
Then, there's holding your glass properly. You should hold one hand on the glass, and use the other to cover the sides, or lightly touch the inside of your elbow while another person is pouring. If you're the one pouring, it's two hands to show respect. Then when you make a toast before drinking, you should go lower than those older than you.
A lot to remember while getting lit, am I right?
When Paying:
When giving your money or card to someone else, you need to use both hands. Also when receiving something, both hands should be outstretched.
However, if you are carrying a bag, or perhaps have larger than average hands, this can be a little awkward. So, you can opt to touch your other hand to the inside of your elbow. Or, if you are a man you can place your palm against your chest. The post above shows the most common gesture you can use instead of using two hands.
Anytime:
Rather than saying giving a hug or a kiss, or a handshake, bowing is the normal greeting. It is used between people regardless of status. Unlike Japan, there is no etiquette concerning how deep the bow is based on status or anything like that. In addition, your bow should be fairly shallow, somewhere between a nod and a bow. Overdoing it will be seen as weird, or mocking. It can be accompanied by a verbal hello, but often it is silent.
Couples do coupley things anywhere! PDA in the form of cuddles, hand holding, and the guy guiding the girl by the wrist or shoulder is common to see. Then there is the aegyo voice. Both men and women can be seen speaking in a high-pitched baby voice to their partners.
Traffic
This country can easily deceive you. For the most part, Koreans are law-abiding citizens. However, when it comes to the road all bets are off. You can easily develop a false sense of security and, when you least expect it, someone will run a red. Be careful!
Speaking of traffic lights, pedestrian lights take forever to turn green and they will go back to red in just a few seconds. You will be having to cross big venues in thirty seconds, at most. So, get ready to run!
Plus, not every intersection has a crosswalk on all sides. Sometimes you will be required to walk in a square instead of just going forward to cross the street.
Shopping
There will be a lot of space on the shelf but someone will want to get the product from where you are standing. They won't wait for you to move or ask you to step aside. Instead, people will just move their hands around you to get the thing they want.
Pork, beef, and lamb are expensive, but fruit is not far behind. However, chicken is cheap – like really cheap. Why is chicken cheaper than tomatoes? I really don't know. However, as expensive as it is, the discount fairy arrives at all the major supermarkets in the evening. At noon the chicken is 8,000 won, at 7 PM it is 7,000 won. Then, at 10 PM it is 4,000 won. The best time to grocery shop is always at 9 or 10 PM.
Fashion
Koreans tend to dress very similarly, especially during winter. All of those aesthetics the rest of the world is obsessed with? Not a thing, at all. Everyone is trendy, but no one is unique.
Black here, black there, black everywhere! Koreans just don't wear many colors. Patterns are few and far between. And, the graphic T-shirts displaying your fandom or favorite characters, no one wears them except during special events.
No matter how hot it gets, the majority of people will still wear pants and long sleeves. Some people protect themselves completely to avoid getting tan or sunburnt and to prevent skin aging. It is a bit weird at first but then you will get used to it.
In winter, it is like a sea of puffer jackets. Black puffer jackets, to be more precise. EVERYONE wears a black pillowy jacket that goes all the way down to the middle of their calves.
For women, you will be looked at if showing shoulders and cleavage. It doesn't mean you won't be able to, they are just not used to it. The only acceptance is in a few neighborhoods that are a bit more used to foreign visitors. Which, is basically going to be central areas along line 2 of Seoul's subway system. Even in Seoul, especially in the North East, people tend to dress more conservatively. But, skirts can be short – very short.
Food
Westerners might have a hard time getting used to Korean cheese and the lack of bread we grew up eating. Cheese is in unexpected things, such as ice cream and sweet snacks. As for bread, the lines between bread, pastries, and cake are often very blurred. Expect soft, sweet baguettes and other things you aren't used to.
When a Korean says something is not spicy, it might still be a little spicy for you. Everything is at least a little spicy. And, when they say something is spicy, it's not a joke and you will die.
I don't know how they do it, but after you order food it is cooked very fast. It's unusual to wait more than 5 minutes for your meal.
Delivery food is fast, but Chinese food delivery is crazy fast. It's not unusual to be eating your Chinese food just 15 minutes after placing your order.
Final Thoughts
There is only so much that can be written in one article. But, I hope these topics help you get a grasp of a little bit of what happens in Korea on a daily basis. If anything caused you a feeling of strangeness, don't worry. No matter where you go, things will be different from what you are used to. And that is okay. These experiences are exactly what makes everything so special and what helps develop your character and grow as a person. Be open and embrace new experiences so that you can fully enjoy the time you are here.
Want to learn more about things in Korea that led to some culture shock? Click Here to read about everyday occurrences that shocked one Pakistani immigrant to Korea.