Timing is very important when it comes to traveling. Whether you want to experience a specific season, attend events and festivals, or you just do not want a bad weather to ruin your journey to a new place, timing is of the essence. Deciding when is the best time to visit a country with different seasons, such as Korea, might be a difficult one as you have to do some preparations like choosing which clothes to bring. If you are planning to go to Korea and you are still contemplating when will you schedule your trip, this article will provide you glimpse of each season to help you decide. Plus, insider tips on where to go and what clothes to prepare. Discover Korea for all seasons!
South Korea has four distinct seasons – Autumn, Winter, Spring and Summer. Autumn starts from September to November while winter falls between December to February. The Spring season starts in March until May while summer starts in June and ends in August. Knowing the characteristics of each season will help you decide on when to book your trip to Korea. You can also book your flight and accommodation in advance if you already have a definite timeline for your travel which will save you a lot of cost.
AUTUMN (September to November)
Autumn is considered as one of the best times to go to Korea. The weather is a bit cooler and dryer but you could still enjoy its warm and sunny environment. A prominent part of the Autumn season is when the leaves start to change its colors to stunning shades of orange, red and yellow. The weather is also perfect to go to different places and take thousands of pictures. My first visit to Korea was during the Autumn of 2016 and since then, I always make sure to be in Korea every year to experience the fall season.
THINGS TO DO AND WHERE TO GO IN KOREA DURING AUTUMN
Nami Island
A must-visit for every tourist, especially for Kdrama fans, Nami or Namiseom Island is one of the most popular destinations in Korea for its various natural and cultural attractions. It also known as the filming location of hit Kdrama – Winter Sonata starring Hallyu stars Bae Yong-joon and Choi Ji-woo. Nami Island is also famous among people who want to take photos during winter. A proof of the phrase: Korea for all seasons!
Address: 1 Namisum-gil, Namsan-myeon, Chuncheon-si, Gangwon-do
Gyeongbokgung, Changgyeonggung, Deoksugung Palace and other palaces
Have a glimpse of Korea's past by taking a walking tour at different palaces located in Seoul. The entrance to these palaces is free if you are wearing a hanbok – the Korean traditional clothes.
Gyeongbokgung Palace: 161 Sajik-ro, Sejongno, Jongno-gu, Seoul
Changgyeonggung Palace: 185 Changgyeonggung-ro, Waryong-dong, Jongno-gu, Seoul
Deoksugung Palace: 99 Sejong-daero, Jeong-dong, Jung-gu, Seoul

N Seoul Tower
Another good place where to spend autumn in Seoul is the N Seoul Tower, also known as Namsan Seoul Tower. The top of the tower is at almost 480 meters above sea level which will give you an awesome view of the city. It is a famous filming location for several Kdramas such as Boys Over Flowers, Rooftop Prince, The Legend of the Blue Sea, and many more.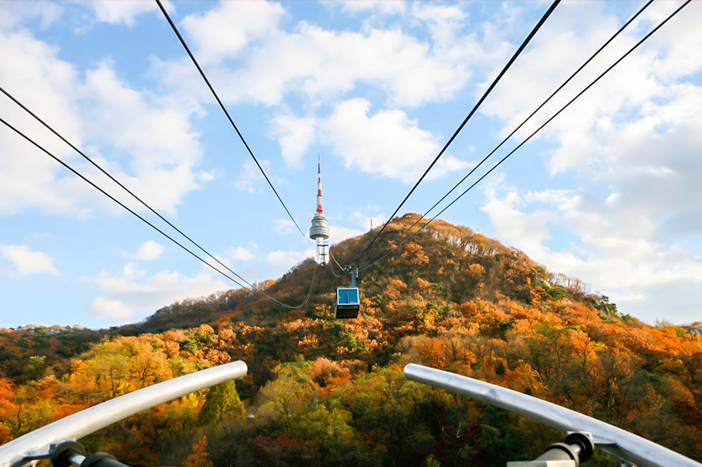 Address: 105 Namsangongwon-gil, Yongsan 2(i)ga-dong, Yongsan-gu, Seoul
Everland
You can also have a fun and thrilling experience in Everland Theme Park. Autumn is a perfect weather in going to theme parks such as Everland because you are not going to sweat a lot even though you will have to walk all day long. Autumn foliage is also visible in many areas of the park.
Address: 199, Everland-ro, Pogok-eup, Cheoin-gu, Yongin-si, Gyeonggi-do
Jeonju
If you want to have fun in cities outside Seoul then you can consider going to Jeonju city. Jeonju is the capital of North Jeolla Province in South Korea and it has its own hanok village too which is covered in autumn colors from October to November. Jeonju is just approximately 2 hours 40 minutes away from Seoul via bus and 1 hour 50 minutes via KTX.
CLOTHES TO WEAR IN KOREA DURING AUTUMN:
Light jacket
T-shirts
Long sleeves
Sweater
Jeans
Warm socks
Scarf or hat
Boots or sneakers
If you will visit in September or early October, scarf and hat are optional as the weather is not that cold yet. But of course, it depends on your preferred fashion statement. The temperature could usually go as low as 10°C during the day. Note also that if you plan to go in late November, it is usually windy and there are times that winter comes as early as then. For example, in 2017 and 2018, winter came early as expected so make sure to bring warm clothes.
WINTER (December to February)
Growing up in a tropical country like the Philippines, it has always been my dream to experience the winter season. Despite the freezing cold weather, I must say that my winter trip was one of my best trips to Korea.
THINGS TO DO AND WHERE TO GO IN KOREA DURING WINTER
Go to a Ski Resort
There are several ski resorts in Korea where you can go to enjoy skiing and snowboarding during the winter season. The peak ski season is from mid-December to end of February. Ski resorts in Korea offer slopes for different skill levels, from beginners to experts. The resorts are also equipped with modern facilities and can provide skiing and snowboarding equipment for visitors' convenience.

Relax at a Jjimjilbang (Korean Traditional Bath House)
Jjimjilbang is a Korean traditional public bath house where you can relax. Big jjimjilbang usually has saunas, sleeping areas, ondol-heated floor for lounging and sleeping, ice room, snack bar, game room, exercise room, and even karaoke rooms. Most of these bath houses are open 24 hours so you can also stay overnight after a long day of traveling.
Attend the Seoul Christmas Festival
If you are going to Seoul around December, make sure to attend the Seoul Christmas Festival. It is an annual Christmas festival held at Cheonggyecheon Stream with a showcase of awesome light displays which illuminate the night from Cheonggyecheon Plaza to Jangtongyo Bridge. In 2019, the festival featured LED light decorations including Santa's Village, Dream Castle, a large Christmas tree and more.
CLOTHES TO WEAR IN KOREA DURING WINTER:
Padded or a very warm Jacket (this is a must!)
Sweaters
Long sleeves (better if heat teach)
Jeans or warm trousers
Woolen or warm socks
Hat, gloves, scarf and mask
Sunscreen and lip bam for sun protection
Hot packs
The weather in Korea during winter is co cold so make sure that your clothes can warm your body. The temperature could go as low as -20°C. But of course, if the cold never bothers you anyway, then this season is the best for you to visit Korea. It will help to wear a padded coat so you will not have to wear 2 to 3-layered clothes.
SPRING (March to May)
When I got to experience Korea's Autumn season in three consecutive years, I thought that it was the best season for me, not until I experienced Spring in full bloom. During the Spring season, Korea is painted in pink by the abundant cherry blossoms. The peak dates for the blossoming of spring flowers vary per year and per region. The weather is somewhat similar to late Autumn but with chances of rain. It is the best time to visit Korea if you want to experience the Cherry Blossom Festivals. When I went to several Cherry Blossom Festivals in Seoul, I was out of words, literally out of words to describe how awesome, beautiful and moving it was to see it with my own eyes.
THINGS TO DO AND WHERE TO GO IN KOREA DURING AUTUMN
Yeouido Spring Festival
Location: 07240 62, Yeouiseo-ro, Yeongdeungpo-gu, Seoul, Korea

Seokchon Lake Spring Festival
Location: 05608 136 Samhaksa-ro, Songpa-gu, Seoul
Lotte World
The Seokchon Lake Spring Festival is actually held around the lake surrounding the Lotte World so you can enjoy the rides and other amusement activities in Lotte World while being mesmerized by the cherry blossoms.
Location: 240 Olympic-ro, Jamsil-dong, Songpa-gu, Seoul
Seoul Forest
Seoul Forest is probably one of my favorite places in Seoul during spring season. The key to have breathtaking spring photos taken in Seoul Forest is to arrive as early as you can to avoid the crowd. Since the park is so large and people are fewer compare to other spring festivals, it is a perfect place to take thousand photos with cherry blossoms. Seoul Forest is not only majestic during spring, you can also witness the fall foliage here. Another proof of the phrase: Korea for all seasons!
Location: 273 Ttukseom-ro, Seongsu-dong 1(il)-ga, Seongdong-gu, Seoul
Wolmi Theme Park
Spring is also a good time to go to Wolmi Theme Park located in Wolmido, Incheon. It is a popular amusement park complex formerly known as My Land. The park has various rides which people of all ages could enjoy. It is the filming location of several shows such as "Touch Your Heart," "We Got Married," "Two Days and One Night," "Running Man," and more.
Location: 81, Wolmimunhwa-ro, Jung-gu, Incheon
CLOTHES TO WEAR IN KOREA DURING SPRING:
T-shirts
Long sleeves
Light jacket
Light sweater
Jeans
Boots or sneakers
Face mask
The only drawback to Spring in Korea is the yellow dust so make sure to bring a mask or you can just buy it from there for 3,000 to 6,000 KRW depending on the design.
SUMMER (June to August)
Summer in Korea is generally warm but most often, it is also the time of the year with monsoon rains. The weather is hot and humid, and the temperature could go as high as 38°C. The heavy rainfall usually happens in July and August so you might want to avoid those months if you don't want to find yourself damp in the streets while touring around. Despite the humidity, a Korea for all seasons will not disappoint you on the activities that you can still do during summer.
THINGS TO DO AND WHERE TO GO IN KOREA DURING SUMMER
Go to the Beach
Summer is the best season if you want to go to beaches in Korea. Just make sure check the weather forecast on what time it will rain and just schedule your summer trip strategically. People usually go to known beaches located in Busan, Jeju Island, Gangneung, Sokcho and Boryeong.
Have Picnics or Bike Around Parks
How about renting a bike and touring around parks? Korea has a lot of parks that are open to public where people can enjoy biking, having picnics, or just walking around.
Experience a Cruise
E-Land Cruise offers river cruise programs from two ferry terminals – Yeouido and Jamsil. You can see the beautiful Hangang River by day on the Story Cruise or be fascinated by the city nightscape and colorful Banpo Rainbow Bridge on the Music Cruise. They also offer lunch and dinner buffet with delicious cuisine.
Location: 290, Yeouidong-ro, Yeongdeungpo-gu, Seoul
Summer season is also the best time if you want to flaunt your tropical clothes in the streets and not to worry about catching a cold.
CLOTHES TO WEAR IN KOREA DURING SUMMER:
Comfortable shoes or sandals
T-shirts
Shorts, skirts, thin fabric pants or trousers
Swim wear
Hat, sunglass and sunscreen
Umbrella and mini fan
Have you decided which season will you visit Korea? What do you think is the best season for you and your travel buddies? For best #ootds, you might want to visit during autumn or spring season. If the cold doesn't bother you anyway, then experience winter. If you are up for fun activities under the heat of the sun, then summer is definitely for you. All seasons have their own unique characteristics. Indeed, Korea for all seasons!
If you find this article helpful, share it with your friends. For more Korea travel tips like this, subscribe to KoreabyMe and read my other published articles on the site. You can follow me on Instagram too!