I love winter. However, when the temperatures drop below zero, it is hard to motivate myself to go out into the cold. Unfortunately, because I have been lazy, I think I am missing the beautiful landscapes and activities that come with it. Snow-covered mountains, frozen lakes, and rivers are almost magical. So I asked myself, why I am just comfortable at home? I am missing out on so many unique experiences. The best region to visit during winter in Korea is Gangwon-do. Famous for its ski resorts. However, spoiled by the Austrian mountains, I was not keen to go skiing here. I wanted to try something new. So I decided to go to one of the many ice fishing festivals in Korea.  
What Exactly is Ice Fishing?
Have you ever tried to go fishing during winter? To be honest, I never thought about it before. But after trying it out myself, I recommend everyone give it a go. I had a lot of fun, even when the weather was not so good.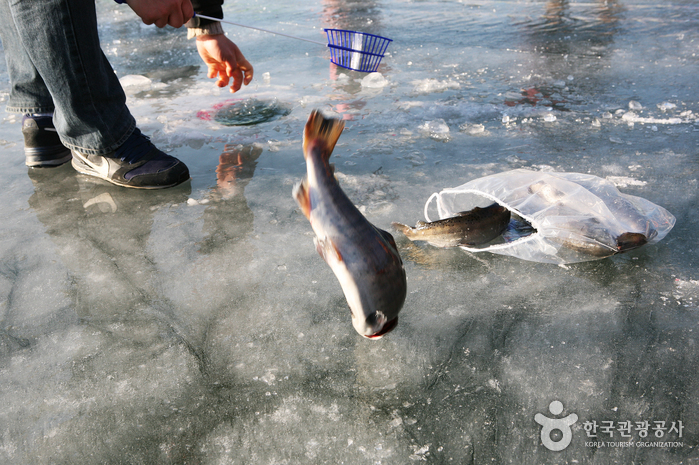 Ice fishing has a long tradition in Korea as you can see that there are various festivals around this activity and can be done in different ways. You can make a hole into the ice and wait for them to bile the bait, or you can jump into the freezing water and try to catch them with your bare hands. You won't forget this experience. So where did I go for ice fishing?
The Hwacheon Sancheono Ice Festival
Around 2 hours east of Seoul lies the small city of Hwacheon. You probably haven't heard this name, except in combination with this festival. It is one of the most famous winter festivals in Korea. Every year in January, this festival is held on the frozen river that flows through the city. And it is huge! On a day with nice weather, I think you can spend here the whole day, especially when you also enjoy the activities in the city.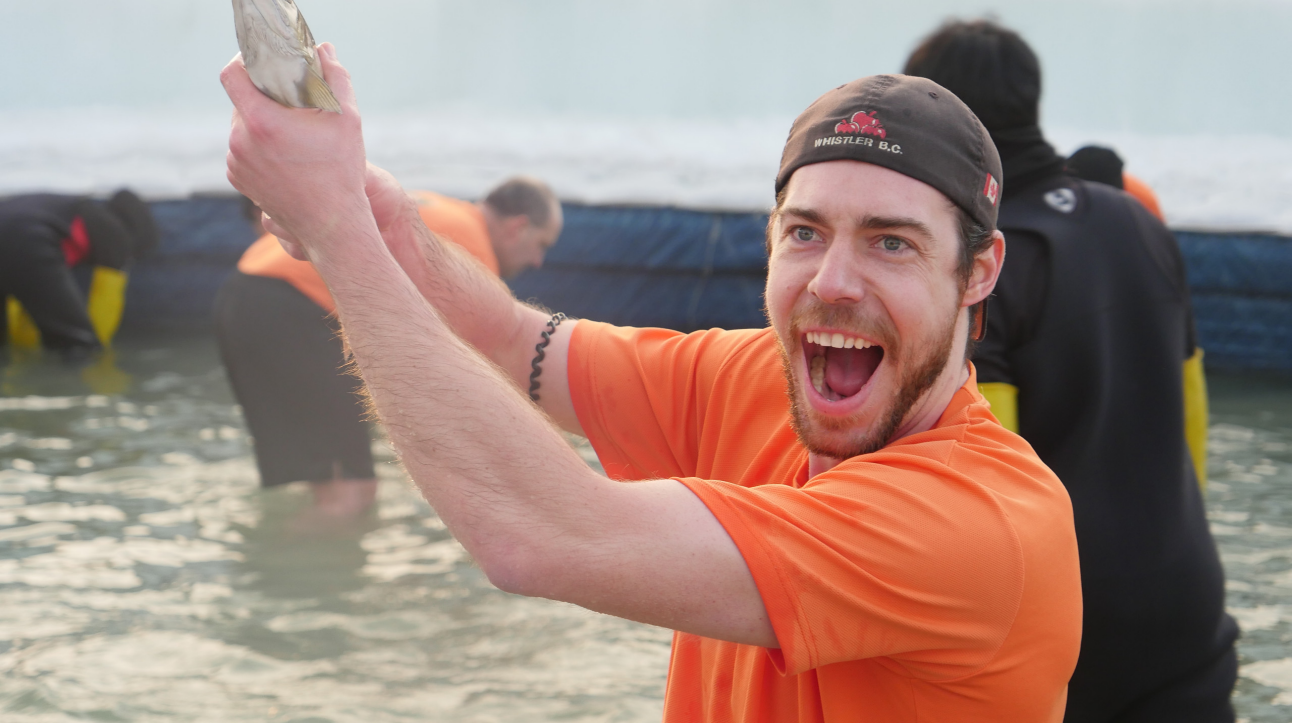 This festival is named after the fish you will be able to catch: Sancheoneo (mountain trout). The most popular activity is ice fishing, where they drill a hole into the ice and visitors can catch the fish through it. You will be surprised at how many Koreans travel to this festival. The ice is full of old and young people trying to catch trout.
Ice Fishing
As already mentioned, the most popular activity is fishing on the ice. There are different areas for it. One of them is especially for foreigners. Also, the price is different for foreigners, so before coming, check it out. Their homepage is also in English (Click here).
The first thing I tried with the group I went with was ice fishing, the reason we came to the festival. We went to the area for foreigners. Because it was raining that day, we got the tickets a bit cheaper at 8,000 won, which usually doesn't include renting the fishing gear. However, we got it for this price instead of 10,000 won. When you buy the tickets you also get a 5,000 won coupon you can use on the festival grounds and some shops in the city.
What to expect when ice fishing
When you get there, you get the fishing gear at the entrance, except if you bring your own, which you can also buy there. After that, the staff will come to you and explain how to do it. If you have problems catching a fish, like me, they will check on you. It is a lot of waiting and moving the rod in a specific way. I had fun, even if I didn't catch any fish. At least I never got them through the hole. However, the others were more talented than me. So in the end we had caught enough fish for us all to try.
Where to Eat at the Sancheoneo Festival
As mentioned above, if you want, you can eat the fish you catch. You can either choose to grill it or eat it raw. It is up to you. You pay 2,000 won per fish, it doesn't matter which way you want it. If you are in the area for foreigners, there is a grilling place just to your left.
Also next to it is a food stall, where you can get ramen, fish cake, and more. So you can warm up and get some rest before exploring more. There is a bigger area for grilling and eating when you go right, almost at the end of the festival grounds. This is the place where the Koreans go. You can decide which one you prefer to go to. However, it will be easier to get some space at the foreigner tent.
Other Activities
Like I said, there are a lot of different activities on the festival grounds. One of them is bare-hand fishing, which is once an hour. You will have to get into a pool, wearing some special clothes they provide. It looks freezing, but also fun. You have to go there at least 20 minutes before.
Ice and bobsledding are also offered, as well as you can try traditional games. There is also a food market, where you can buy some local specialties. If you leave the festival grounds, there are cafes and restaurants where you can eat at. Some of them also accept the coupon you receive upon entering the festival. Another place we also went to was the 'World's Largest Indoor Ice Illumination Plaza'. You will freeze, but the sculptures are worth it. And, there is also an ice sled I would recommend trying at least once.
Conclusion
The Sancheoneo Ice Fishing Festival has a lot to offer, more than I mentioned. So check out the homepage if you are interested and if you don't have time to go this year. There is always a next year or other festivals and similar programs. I really had a lot of fun at the festival. Unfortunately, I couldn't try most of the activities because of the rain, but I still kept busy and enjoyed it. And, it is one more reason to come back to try other activities next time. I definitely recommend coming here at least once and taking part in different events, just be sure to dress warm enough.
Address: 137, Sancheoneo-gil, Hwacheon-gun, Gangwon-do
Korean address: 강원도 화천군 화천읍 산천어길 137