I just got married to another alien in Korea. The process to register marriage between foreigners in Korea was quite complex. Most information about international marriage that we could find was for a union between a foreigner and a Korean. However, most things did not apply to us and were far more complicated. So, today I am going to share what we have learned about registering a marriage between foreigners in Korea.
*If you would like to know about marriage between a Korean and a foreigner, and the process of obtaining an F-6 visa, Click Here.
Introduction
Instead of doing a wedding ceremony like Koreans, my fiance and I opted for a small ceremony in a mosque. The information about this is even less!
I wrote the complete details on my personal blog already, so I write this article to summarize the whole process to register marriage between foreigners in Korea for anyone who may need it!
International Marriage in Korea
In Korea, international marriage (gukje kyorhun) encompassed 6.8% of marriages in 2021 (Statista). The number has been dwindling. In 2021 13,102 couples got hitched, compared to 34,235 in 2010.
Compared to my home country (Indonesia), international marriage is a bit different. In Korea, international marriages are mostly between a male Korean and a female foreigner. The opposite happens more often in Indonesia. I am curious to know why, but this article is not a place to discuss it.
Anyway, the Korean legal system will also recognize a marriage between foreigners residing in Korea. However, for us, there will be no possibility of changing to an F6 visa (marriage visa). The F6 visa is only applicable if a marriage occurs between a Korean national and a foreigner. My husband and I kept our original visas (D2 and E2), and we are not required to report the marriage to immigration because it doesn't affect our visa status.
Another difference is the certificate. Marriage to a Korean can get you these two documents: a Marriage Certificate (혼인관계증명서) and a Family Registration (가족관계증명서). But, when you register marriage between foreigners in Korea, you get a 수리증명서 aka certificate of acceptance, which states that they have approved the marriage registration between two foreign residents.
So, this article will mainly focus on how to get a 수리증명서 (certificate of acceptance).
Islamic Wedding in Korea
Do you know that you can do an Islamic wedding ceremony in Korea?
Most foreigners in Korea get married in a wedding hall, as most Koreans do. But, if you and/or your spouse is a Muslim, you can opt for an Islamic wedding. It is also a much more affordable alternative!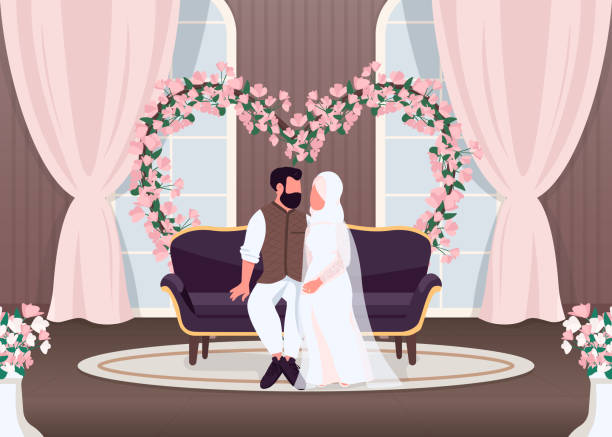 The Korea Muslim Federation (KMF) offers a nikkah service in the Itaewon Mosque, in Seoul. If you live in another city, your best bet is to find a mosque, or Islamic center, and talk to the imam (the person in charge, basically) about it. The cost to get married in Daejeon and Korea is the same: 300,000 KRW.
How to Arrange an Islamic Wedding Ceremony in Korea
You will need to make personal contact with the imam. The KMF in Seoul did not reply to any of my messages, so I highly suspect that you will need to see them in person.
Compared to other religions' weddings, Islamic weddings are very simple. You only need you and your spouse, 2 Muslim witnesses, a dowry (doesn't have to be huge), the bride's guardian (imam can act on behalf of your guardian), and the imam to wed you off. The whole wedding vow process and signing of marriage certificates take less than 15 minutes. My husband said that it was the shortest wedding ever!
You must note that not all mosques or Islamic centers can issue a proper marriage certificate. This is why you should personally talk to the Imam. The imam will also discuss the date, and whether or not you'll invite people.
If you do not want to invite people, then you only need to prepare the dowry and sign off the paperwork. Voila, you're married! We wanted to invite our friends, so we had to make more arrangements with the Imam. Thankfully, everything went well!
Why Register Marriage Between Foreigners in Korea?
To be lawfully wedded in Korea, a certificate from a masjid is not enough. It is even useless. Korean law generally does not recognize religious weddings. All marriages in Korea must be registered in a district office (gu cheong), including getting married as a foreign couple in Korea.
Many register marriage between foreigners in Korea because of immigration issues. In order to take your spouse to your home country, you often need a marriage certificate. In addition, there are many cases where foreigners remaining in Korea need a marriage certificate. If you intend to have children or have your spouse listed as a dependent under your visa, you will need a legally certified marriage.
Step 1: CNI/ Affidavit at Your Embassies
For foreign couples, we first needed to go to our respective embassies to get an affidavit, or a 'Certificate of Non-Impediment' (CNI). This document basically states that you are eligible to marry in Korea. Each country has different requirements for CNI, so be sure to check it on your own!
Step 2: Get Your CNIs Translated and Notarized
After we got our affidavits, we had to translate them into Korean and get them notarized. If you do not possess a TOPIK certificate, you have to find a translator to do it. Sometimes, the notary office can do it for you. You can find them on Kakao or Naver map with these keywords: 번역 (bohn-yeok, translation) and 공증 (notarization). I got a tip that they are mostly located around city hall, or near courts.
To summarize, this is the list of documents you need:
ARC copies (both parties)
Passport copies (both parties)
Affidavits from each embassy, translated to Korean and notarized (paid KRW 25,000 for each)
Korean marriage registration form
Step 3: Register at the District Office
I got the marriage registration form in gu cheong, and the staff highlighted the parts I had to fill in. You should fill in the whole thing in hangeul, so it can be tricky if you cannot write in hangeul.
For alien couples, we did not have to fill in the 'parents' column. We can also go to the gu cheong without our spouse, but we must bring their ARC and they must sign the documents themselves.
I submitted all the documents to the staff and she gave me 접수증 (jeob-su-jeung) kinda 'certificate of submission'). I thought I couldn't receive the actual certificate that day, and that they would contact me later, so I went home.
However, I was anxious because they didn't call me and decided to return to gu cheong in a week, only to find out that I did not have to wait. I only needed to fill in another document and asked for the certificate. A foreign couple does not have to wait for a marriage certificate, but a foreigner married to a Korean needs to wait 5-7 working days to get theirs.
So, receiving the 접수증 (jeob-su-jeung) is the last step to Getting married as a foreign couple in Korea. Congratulations!
Conclusion
I found that both to organize an Islamic wedding and to register a marriage between foreigners in Korea were fairly straightforward. However, getting the CNI is where things can be tricky.
While my husband only needed his passport to get the CNI from the US embassy, I jumped through hoops and loops to get mine. Indonesia has so much red tape, I needed 3 months to gather all documents in Indonesia in order to submit them to my embassy in Seoul. So, my advice is, to make sure that you contact your embassy first before getting married in Korea.