Gukbap (국밥) is a Korean dish that is incredibly tasty and simple. With many variations, each restaurant has its own recipe, always maintaining the same basic formula- rice in soup.
Origins of Gukbap
literally, gukbap means "soup" (국), and rice (밥). It first appeared in inns, where the owners decided to make a meal with whatever ingredients they had at the time (mainly vegetables and leftover rice). According to Namuwiki, the first historical record of the dish dates back to a poem by Yoo Soon written in the late 1400s.
As the dish got more popular, it became a daily meal option, and more robust versions with meat appeared. It became one of the most commonly eaten foods among the common people of the Joseon dynasty.
Ingredients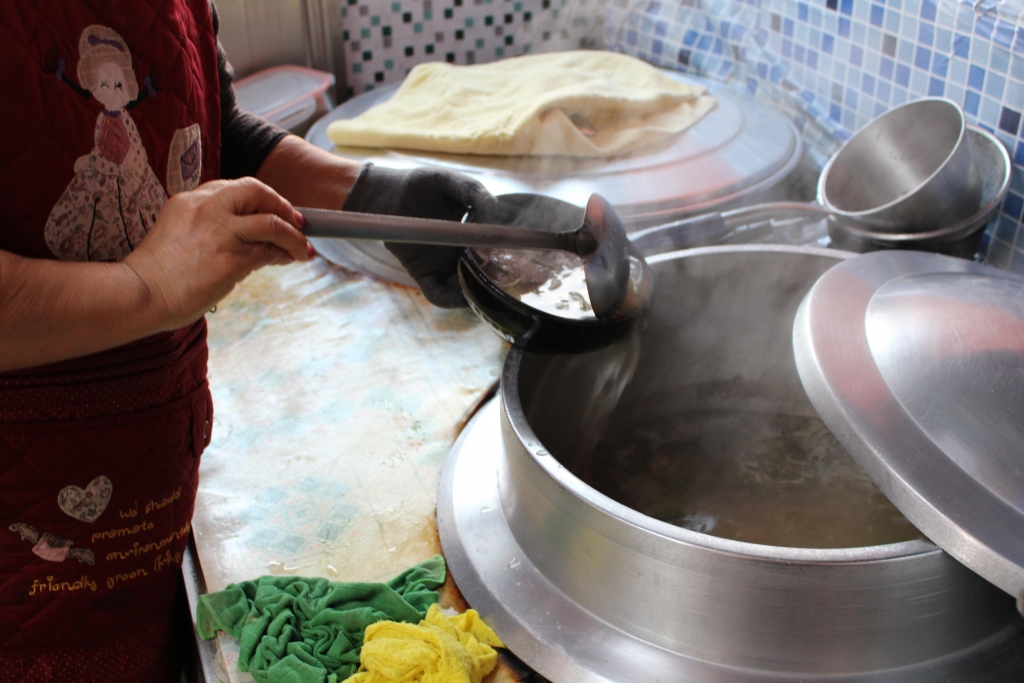 This dish is incredibly famous all around Korea. Anywhere you go you will be able to find a restaurant that serves it. To make this dish from scratch, you start by boiling animal bones with some spices to make a simple broth. Then, you add in some rice and whatever vegetables and meat you have lying around. Finally, you add some garnish. Among the garnish, you can find green onion, red pepper, and sesame seeds.
Spicy and non-spicy versions can be found. I usually say that this is a good dish to introduce to foreigners that are not used to spiciness. You can get the essence of Korean traditional food, without the spice.
Varieties of GukBap
Now, for the varieties of gukbap, here is a list of some of the most common ones: pork (돼지국밥), beef (소고기국밥), ox (소머리국밥), sundae (순대국밥), soybean sprout (콩나물국밥), oyster (굴국밥), radish (시래기국밥), and ttaro (따로국밥).
I tried a few versions myself. My absolute favorite is the pork gukbap, followed by the beef gukbap.
Each region in Korea is known for a specific variety of gukbap. For example, Busan is famous for having pork gukbap. In the meantime, I found out that Jeonju serves a lot of soybean sprout gukbap, so it is famous in that area.
Recommendation
For pork gukbap, I will recommend a couple of places in Busan. However, since the dish is simple and consumed daily by many Koreans, I have no doubt that you will be able to find a nice restaurant wherever you are.
The first restaurant is called 재기 돼지국밥. As the name says, pork gukbap is their specialty. You can find not only the simple dish, but also versions with added toppings, such as sundae (blood sausage), dumplings, and vegetables.
재기 돼지국밥 is located inside a traditional market. The Korean address is 부산 영도구 절영로49번길 25 (25 Jeoryeong-ro 49beon-gil, Namhang-dong, Yeongdo-gu, Busan). It is not the exact address, but its easy enough to find once you are at this location. It's so popular, there is always a huge line around meal times. The dishes start from 8,000 Won. I highly recommend coming for an early lunch to avoid peak crowds.
The second place is called Youngjin Dwaeji Gukbap (영진돼지국밥), located in the KSU/PKNU area in Busan (부산 남구 동명로 123). This place is easily accessible and you will love the delicious broth with tender meat.
Finally, the last place that I would like to recommend serves beef gukbap in Gongju. The place is called 새이학가든 and the address is 충남 공주시 금강공원길 15-2. This is one of the most famous places in town and the dish is nicknamed Gongju Gukbap.
Conclusion
Gukbap is one of the most delicious Korean dishes, and if you want to try it out, I am sure you will find a restaurant that serves gukbap to your taste.
Check out other facts about Korea at KoreabyMe!