Gleen Garden (글린정원) in Sejong is a restaurant that mixes good food with aesthetic photo spots.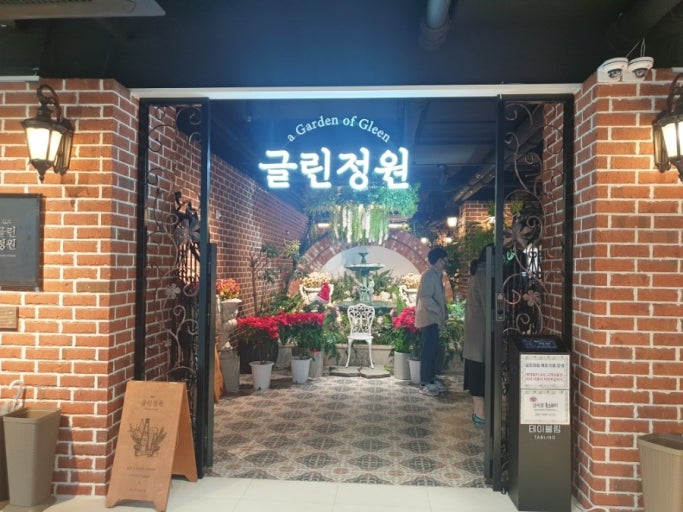 Cafe and restaurant
To be more exact, Gleen Garden is a restaurant and cafe at the same time. Although many people come for their Italian menu, the place also serves coffee and has a nice selection of desserts.
The place actually resembles a garden, their vivid and green decoration makes you feel like you are inside a Disney movie. The yellow lights and the indoor pond add even more to this feeling and makes up a perfect spot for photos.
This restaurant is one of those places that I would call photogenic since every angle makes a great photo. Right by the entrance you are greeted with a stone wall that contains the name of the restaurant, green plants, flowers, and bird cages, and right in the middle a chair so you can be in the picture.
The tables as also well decorated as each has its own space made out of curtains and lights. I would even recommend calling in advance to reserve a spot for lunch or dinner, so you can enjoy your time at Gleen Garden at one of the nice tables.
Don't forget to check out the pound for a second nice proto spot with the angel fountain.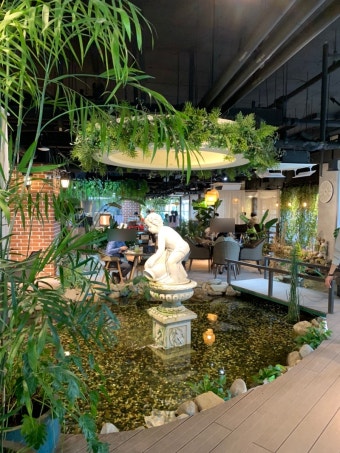 Menu
Gleen Garden specializes in Italian food but also has many desserts to snack on during the afternoon. 
They have pasta dishes, risotto, pizzas (10 inches), soups, and salads all ranging around the same price of ₩20,000, which honestly seemed okay for the quality of the food.
If you come with more people, they also offer sets that usually come with salads, a main dish (risotto or pizza), and drinks. They have those sets for two, three, and four people.
Wine and beer are also served at the place.
Now, if you are going to the cafe, I would suggest going between 2 and 5 pm because that is when they offer the afternoon tea. It costs ₩29,000 and serves two people. The set comes with cookies and other pastries and beverages (which you can choose among coffees also, not only teas). If you do not want to spend too much but still want to have a nice time at Gleen Garden, this is definitely a good option.
Address and Working Hours
Gleen Garden is located in the city of Sejong, in the center of South Korea. The full address is 가름로 143 KT&G B동 3층 (어진동524).
Their working hours are from 11 am to 9:30 pm, being the last order at 8:30 pm.
Conclusion
If you are visiting Sejong, Gleen Garden is a nice spot to stop for a meal or just a coffee. Their beautifully decorated place and their delicious food will make it worth the time and you will have nice photos to remember the city by!
Check out other nice restaurants in South Korea at KoreabyMe!