Korean summer can be as deadly as you can imagine. While I do enjoy sunshine and the sound of summer cicada, but as we head into the last phase of summer, an escape from heat, humidity and sun rays sounds incredibly good too! What better place to beat the summer heat than in a fully air-conditioned indoor shopping mall. In this post, I will share about how I spent my day in one of the most famous shopping mall in South Korea – Starfield COEX Mall.
About Starfield COEX Mall
Fact checks:
Starfield COEX Mall is the largest underground shopping mall in Asia. This fact alone can explains why I always get lost in there. This place is so much more than a shopping mall though. There's this five-level interactive shrine to K-Pop, a 17 screens cinema, one of Seoul's largest aquariums, an event area for concerts and other performances, a huge library, and multiple dining areas. Basically it has got everything you need, all in one place!
Website: www.starfield.co.kr
How to get there
Starfield COEX is very accessible from anywhere. There are many different ways to go to Starfield COEX Mall and one of the easiest ways is via the subway.
Line No.2 Samseong Station (삼성역): Use the passage directly connected from exit 5 or 6 to Coex mall through the Millennium Plaza.
Line No.9 Bongeunsa Station (봉은사역): Take exit #7 and use the direct passage connected to Asem Plaza to enter Coex Mall.
Line No.7 Cheongdam Station (청담역): Take exit 2 and walk straight for 20 minutes on foot. Access Coex Mall through the ASEM Square.
How I spent my day
It was a really hot Tuesday afternoon and I was super bored. So I called up my friend and I was like, "Let's hangout!" We really had no idea where to meet at first because we just wanted to go somewhere we can cool our heads off and have some fun activities. So we decided to meet at the Starfield COEX Mall – the perfect all-in-one place!
Photoshoot first!
First things first, this place has too many Instagrammable places and I can't help but wanting to take a lot of good photos for my own collections. The funny thing is my friend and I spent a solid one hour outside of the mall just to take our pictures (please don't judge us).
Shop until you drop
After some decent photoshoot sessions, we then went into the mall and did some shopping.
There are hundreds of stores and stalls to browse and I can't even begin on how spacious this mall is. From domestic brands to international brands, from basic necessities to the most random-est thing you would ever find, you can basically find anything you need within this mall. During that day, there was this huge clearance sale in 8 seconds and H&M and my friend and I got to buy a few items without spending too much. What a bargain!
COEX Aquarium
We then proceed to the aquarium to have some fun. It was located at the basement of the malls. This aquarium features 90 exhibition tanks grouped in fourteen "discovery zones", including six themed areas and is also known as one of South Korea's largest aquarium.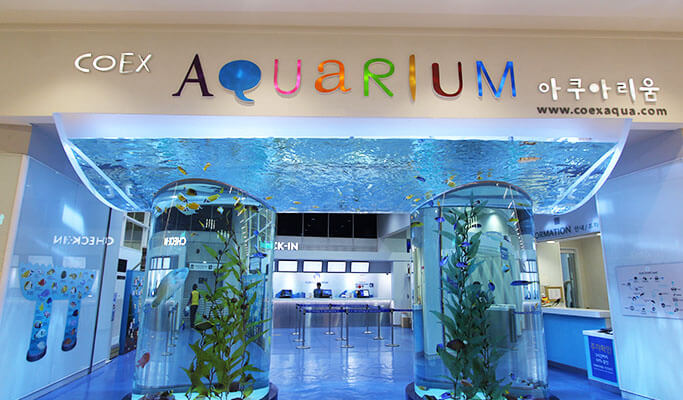 Hours of Operation
10:00 – 21:00
Holidays
Open year round
Days of Operation
Monday – Sunday
Fee
[Individual] Adult/Youth ₩28,000 | Children ₩24,000
[Disabled] Adult/Youth ₩19,500 | Children ₩16,500
Here are some of the details
We were given a map where you can collect stamps each time you enter a different "discovery zones". The decor inside was simply stunning and it was as if I were walking inside an art museum, but with lots of fish tanks.
Overall, I felt this aquarium had ingenious ways as to how to display marine creatures. Really had fun exploring the underwater world! Definitely a must go.
Dinner at Shy Bana
By the time we finished our aquarium tour, we were starving. We had our dinner at Shy Bana which serves really good South West American food. What caught my attention is their motto, "eat today, diet tomorrow." Catchy yet meaningful.
It was our first time to this restaurant so we've picked their best selling menus. We ordered back ribs plate and giant meatball spaghetti. And I thought we've made the right choice picking their best menus. Really delicious! Not too oily, not too bland, and really well presented. We even got a last minute order of their seafood jambalaya because we just can't get enough of their taste.
It was really a satisfying dinner. My friend and I were so full that we thought our stomachs will explode as soon as we breathe.
Starfield Library (별마당도서관)
To finish off our day, we went to the Starfield Library to take some photos and just chill.
This is the perfect spot if you are looking for a place to just sit down, take a break, and immerse yourselves in books along with other bibliophiles. Or if you are a photography fan just like me, I would highly recommend this place for you.
All in all, I had a blast that day although it was an unplanned meetup with my friend. I hope you guys find this article helpful as well and that's all from me. Peace out.
Read more: SMTOWN, a unique experience for Kpop lovers