The Cultural Heritage Administration's (CHA) committee for opening Cheong Wa Dae to the public and the Korea Cultural Heritage Foundation (KCHF) on March 23 said they will hold spring culture and arts concerts at the former presidential compound from March 29 to April 16.
The performances at Cheong Wa Dae's heliport will be held twice daily at 11 a.m. and 3 p.m. except on Tuesdays, when the complex is closed.
The first act is the folk-style fusion band Second Moon (March 29), followed by Seodo Band, famous for playing variations of gugak (traditional music) and pop (March 30-31); tightrope walking by the group Kwon Won Tae Namsadang (April 1-2); E-sang, a group leading the popularization of gugak (April 3-5); traditional performing arts by the KCHF Performance Arts Group (April 6-7); Narin, an acapella quintet that has won a slew of awards from competitions (April 8-9), Korea's leading jazz trio Gentle Rain (April 10-12); and brass jazz quintet Mr. Brass (April 13-14).
From April 15-16, honor guards from the Ministry of National Defense will play traditional honor guard and military music at the garden of Daejeongwon at 3 p.m.
The performances require no reservations and are open to visitors at Cheong Wa Dae. Rain may result in an event's cancellation.
The CHA committee said, "We hope that these events on the occasion of spring allow visitors to form enjoyable memories at Cheong Wa Dae, which is full of the scent of spring," adding, "We wish for Cheong Wa Dae, which became Korea's leading tourist destination by attracting more than three million visitors as of March 1, to remain a special place loved by the public."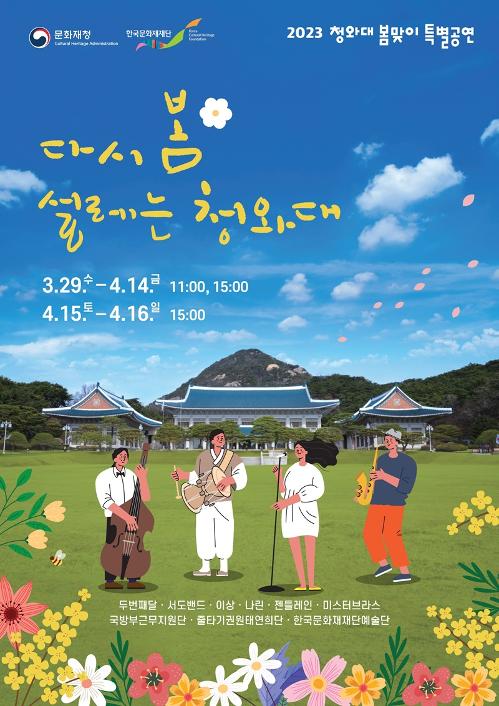 CONTACTS: jihlee08@korea.kr
View original content to download multimedia: https://www.korea.net/NewsFocus/Culture/view?articleId=230424