Busan City Tour began operations on March 3 after it closed to prevent the spread of the coronavirus disease. Busan City Tour's two main routes, Red Line that travels to Haeundae and Green Line that travels to Taejongdae, will open first. Due to social distancing procedures, the Blue Line and the theme & night courses will not resume operations at this time.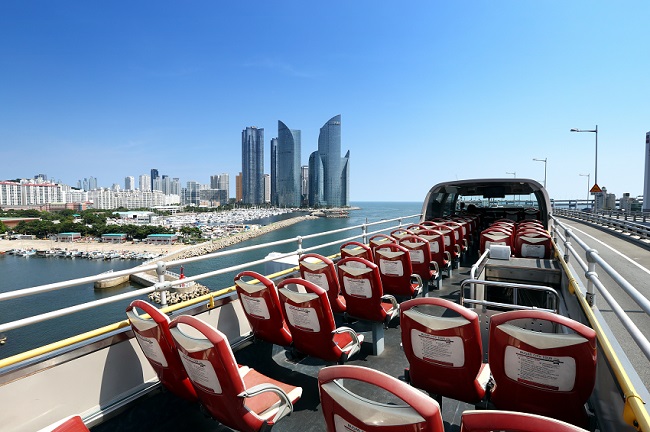 The tour is closed on Mondays and Tuesdays. The buses operate in 1 hour intervals on weekdays and 30 minute intervals on weekends. The fare is 15,000 won per passenger.
Passengers can board the Red Line and Green Line freely for the first 24 hours after purchasing a ticket. Prior reservation is not required and passengers board on a first-come-first-serve basis. Tickets can be purchased with cash or credit card.
Four stops on the Red Line are temporarily closed (Busan Museum, ARPINA, Busan Yachting Center, Busan Cinema Center). Three stops on the Green Line are temporarily closed (Yongdusan Park·Busan Tower, 75 Square, Korea National Marine Museum).
More Info
Busan City Tour Restarts Operations
Period: March 3, 2021 ~ ongoing
(Temporary arrangement due to social distancing for COVID-19)
Fare: 15,000 won
* Fare includes access to the Red Line and Blue Line
* Same fare applies to all riders, regardless of age or day
Inquiries: +82-51-464-9898 (Korean, English, Japanese, Chinese)
Website: www.citytourbusan.com (Korean, English, Japanese, Chinese)
1330 Korea Travel Hotline: +82-2-1330 (Korean, English, Japanese, Chinese, Russian, Vietnamese, Thai, Malay)
---
Source: KTO