Have you ever been to Korea during the autumn season? Autumn in South Korea usually starts in September and ends in November. After the hot and humid summer, the autumn welcomes us with refreshing and perfect weather; not too warm and not too cold. It is cool and dry, the skies are clear, making it a perfect day to visit and to enjoy the spectacular fall foliage throughout the country. There are many beautiful, stunning, amazing, and best places to visit during the autumn season. I included some best fall foliage sites below. Check it out!
Fall Foliage
Have you ever seen the fall foliage? Also, have you ever witnessed how autumn leaves change their colors? Tree leaves are changing their colors from green to yellow, gold, orange, and red. We can see this everywhere in Korea, but one of the best and famous fall foliage destinations is in Nami Island.
Best Places to Visit During the Autumn Season
Nami Island
Nami Island will certainly not disappoint you in the autumn season. The beautiful natural landscapes of Nami Island attracts lots of visitors, making it one of the most visited tourist destinations in South Korea. Located in Chuncheon, Gangwon Province, it will take approximately one and a half hours from Seoul.
It is known for its enchanting natural sceneries and attractive tree-lined roads which make it a picture-perfect scenery all year round and also a perfect place for those who love and admire nature. The weather during autumn is not that cold nor too warm. It is cool and dry, and the skies are clear. It is absolutely a perfect day to visit and to enjoy the spectacular fall foliage across the island. Late November, most of the leaves had fallen. But still, witnessing the fallen and still falling yellow ginkgo leaves is just so aesthetically pleasing.
Nami Island Address: 1 Namisum-Gil, Namsan-myeon, Chuncheon-si, Gangwon-do, South Korea
Jeonju Hanok Village
Did you know that Jeonju is the home of the largest Hanok Village in South Korea? One of the best things to do in Jeonju is to explore the Jeonju Hanok Village, a traditional-style village with over 800 traditional Korean Hanok houses. It is a spectacular area to roam around especially in autumn. The picturesque pavilions, houses, sculptures on the streets with the yellow ginkgo leaves and other autumn leaves are very captivating that visitants can take a lot of worthy beautiful shots.
Jeonju Hanok Village Address: 29, Eojin-Gil, Wansan-gu, Jeonju-si, Jeollabuk-do, South Korea
Seoraksan National Park
You can also enjoy the mesmerizing foliage in Seoraksan, one of the beautiful and famous mountains in South Korea. It is the mountain that encircles the Seoraksan National Park. During autumn, the park will show you, groups of trees full of red maple leaves and a panoramic view of the stunningly beautiful mountain. You can either ride the cable car or just take the hiking trails to reach the top of the mountain, where you will have a glimpse of the captivating beauty of nature.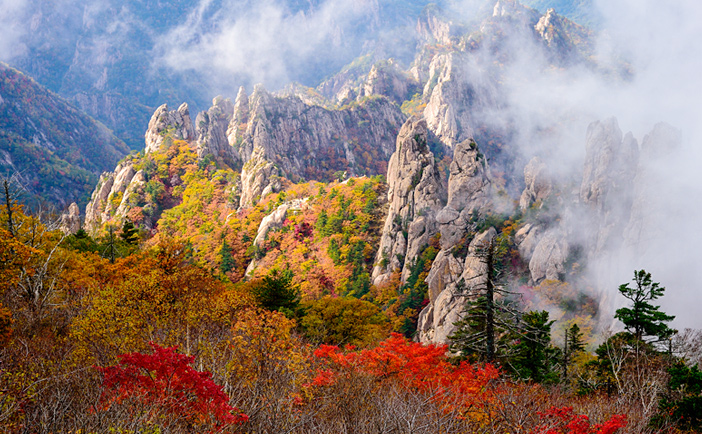 Seoraksan National Park Address: Buk-myeon, Inje-gun, Gangwon-do, South Korea
Other Fall Foliage Sites
You can also enjoy autumn in Asan Gingko Tree Road, Changdeokgung Palace, Deoksugung Stone Wall Road, and Naejangsan National Park. If you plan to visit South Korea in autumn, do not ever miss to visit these places.

Chuseok, holiday; the Korean harvest celebration, also falls in autumn. During this holiday, they offer free admission fees to some tourist attractions, major palaces, and heritage sites such as the Gyeongbokgung Palace. You can wear Hanbok and capture lovely pictures of yourself with the beautiful autumn leaves as your background. It's not just free but you will certainly have fun.
Autumn is such a lovely and charming season. For me, it is the best time to visit South Korea. The weather is fine and just perfect. Furthermore, the whole country displays its most beautiful shades of bright orange and red autumn leaves during this season.
Thank you for reading my articles! You can also see more of my Korea Travels here and on my IG!