Banwoldo Island off the coast of Sinan-gun County in Jeollanam-do Province, nicknamed "Purple Island" for its violet-colored theme, has caught the eyes of global media including CNN and Fox News.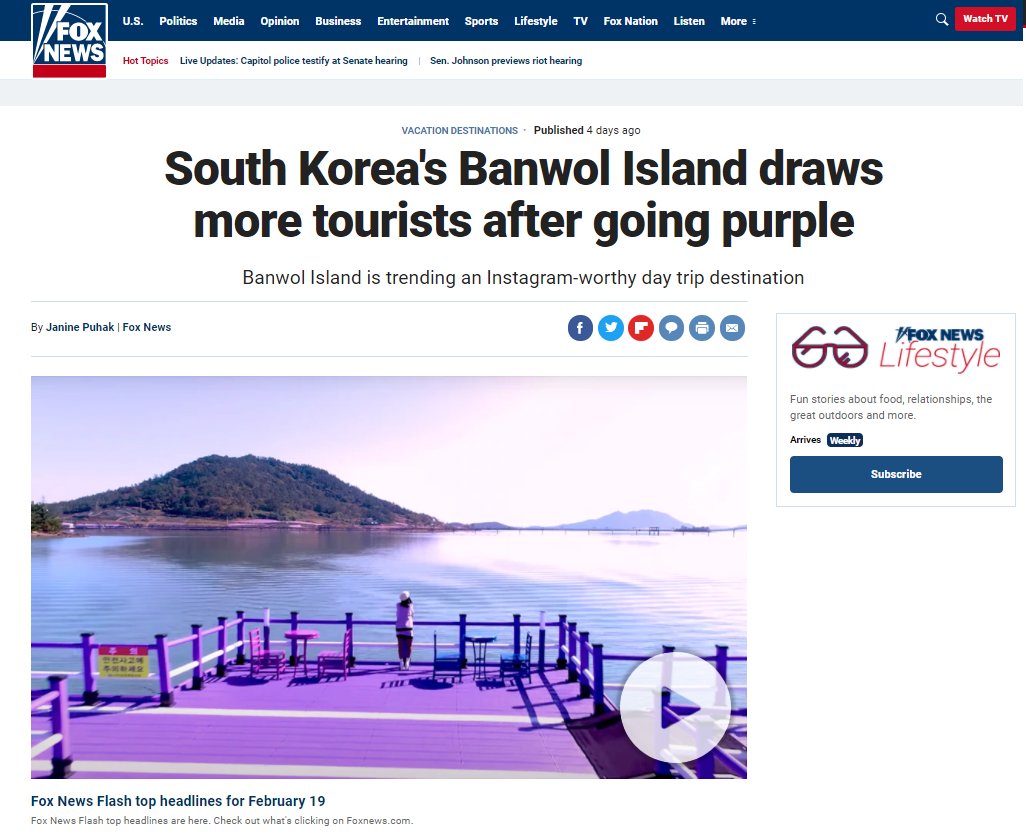 The county on Feb. 24 said Fox News covered the island's uniqueness in the Feb. 19 article titled "South Korea's Banwol Island draws more tourists after going purple," saying Banwoldo is "trending an Instagram-worthy day trip destination for its eclectic violet theme, drawing thousands of domestic visitors as international travel is restricted during the COVID-19 pandemic."
Earlier on Feb. 8, CNN introduced the island's purple transformation process through eight photos in its article titled "South Korea's all-purple Banwol Island is a photographer's dream."
The network called Banwoldo's redecoration a "risky but beautiful move" and an achievement given a recent increase in visitors.
The island last year also drew the attention of Germany's top satellite broadcaster ProSieben and Hong Kong's famous travel publication U Magazine.
Starting with a purple bridge in 2007, the county began a project with residents to give Banwoldo a purple theme. The purple concept was inspired by the island's ecological characteristics such as being the habitat of a purple bellflower colony and self-heals grown there.
The county and its residents created fields of plants such as lavender, lily magnolia and hydrangea along the coastal walk path and painted purple every rooftop, the walls of small warehouses, aprons, dishes and even coffee cups. Sinan-gun evaluated this initiative as the nation's first successful case of color image making.
Banwoldo was also included on the list of "100 Must-visit Tourist Spots in Korea" for both domestic and foreign tourists during 2021-22 compiled by the Ministry of Culture, Sports and Tourism and the Korea Tourism Organization.
---
Source: www.korea.net