When most people think of multicultural neighborhoods in Korea, the first place that comes to mind is usually Itaewon. However, there is one vibrant multicultural neighborhood in Korea that's often overlooked. Welcome to Ansan Multicultural Food Street! It's a little taste of home for Southeast Asian expats living in Korea.
Nusantara
'Nusantara' is another word to call Indonesia, and recently, President Jokowi chose it as the name of our new capital city in Borneo (ps: not yet built). So, in this article, I want to write about a city in Korea where I feel most like 'home.'
According to the Indonesian embassy, there are around 30,000 Indonesian living in Korea, and most of them are working in Ansan. Among Indonesians, there is a joke that Ansan is our capital city in Korea.
Multicultural Street
As soon as you climb up the stairs of Ansan Station, you will arrive at the Multicultural Food Street (다문화음식거리). True to its name, this street hosts various stores and restaurants from all over the world. The most notable ones are Indonesia, Vietnam, Thailand, and China.
Along these streets, I feel like I am not in Korea. There are people selling snacks and goods from foreign countries. I can also find my favorite snacks that I used to buy in Taiwan!
The most striking thing for me is hearing familiar languages. Indonesians mostly speak at least two mother tongues: Bahasa Indonesia (national language) and one local language. For me, my mother tongues are Javanese (NOT Japanese!) and Bahasa Indonesia. Javanese itself has many sub-dialects, and it felt amazing for me to hear all of the familiar dialects and mix of languages I grew up with while visiting Ansan!
Taste of Nusantara
Ansan Station is across the street from the Multicultural center, but as soon as I got out of the station, I could hear Javanese and Bahasa Indonesia being spoken. It made me feel at home instantly.
Like I said above, there are many stores and restaurants in Ansan, especially Indonesian. So I never had to speak English or Korean while purchasing anything in any of these stores.
However, it perhaps tasted too much like Indonesia inside the buildings. I could instantly smell cigarettes. There are a lot of smokers in Indonesia, and I guess, habits die hard. Even if Korea bans smoking inside the buildings, the law doesn't seem to be enforced in Ansan.
Indonesian Shops
There are several Indonesian stores on the main street, and probably more in the smaller alleys. Although I can easily find Indonesian goods in Itaewon, Ansan stores have a way wider range of goods. I felt so pampered by the choices I had! Even though I didn't plan to buy many things, I ended up filling an entire shopping bag after just one store.
Itaewon V Ansan
Itaewon's foreign stores don't specialize in Indonesian goods. There are many things from other countries. The majority of products are from India, Pakistan, and the Middle East with some Indonesian items thrown into the mix. For Indomie (Indonesian cult-favorite instant noodle), I can only find 3 flavors maximum. As a comparison, in Indonesia, Indomie has 63 flavors! You can imagine how much I missed out in Korea (ha!). Nevertheless, Ansan stores usually have at least 5 Indomie flavors and many other Indonesian noodles from lesser-known brands.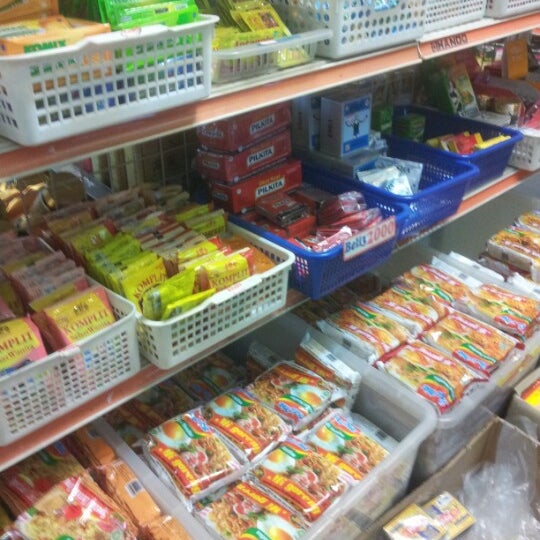 Indonesian stores in Ansan also have cooking ingredients I can never find in Korean and foreign markets. Indonesian food generally contains a lot of spices and ingredients, so it's even more difficult to cook without complete ingredients. Luckily, for Indonesians, Ansan stores have what you need to complete your recipes!
However, my favorite thing in Ansan stores is SNACKS! The stores offer a wider variety of Indonesian snacks than anywhere else in Korea. I can stock them up for weeks at a time. My recommendation is cassava chips and assorted peanuts. They're delicious!
Finally, Indonesian stores in Ansan also sell Indonesian medicine (my love, Tolak Angin T_T), soaps, shampoos, and even mobile SIM CARDS. For SIM CARDS, there are a lot of phone stores along the street. You can arguably find some of the cheapest phones in Korea and the sales clerks usually speak Indonesian!
Indonesian Restaurants
Seoul has several Indonesian restaurants. But the restaurants in Ansan are generally cheaper, more delicious, and have more regional dishes.
Indonesia is a huge, diverse country. Many people don't realize that Indonesia is actually the fourth most populous country on earth. As a result of our diversity, our cuisine varies from city to city, and province to province. And generally, provinces with more enthnic groups also have more variety in it's cuisine. Hence, culinary travel is very popular back home.
Unfortunately, in Seoul, there are fewer varieties of regional cuisine than in Ansan. In Ansan, you can find more variations. However, the majority of restaurants serve Javanese, Sundanese, and West Sumatran cuisine.
The price here is a lot cheaper than in Seoul. For instance, a portion of bakso or ayam goreng in Seoul will cost around 15,000 Won. Meanwhile, in Ansan, the same meal only costs around 8,000-10,000 won.
On weekends, some restaurants put on a 'buffet special' where you pay a fixed price of around 10,000-13,000 won. With this, you are given a tray. Multiple dishes are put out and you are allowed infinite refills. Heaven!
I really enjoyed the atmosphere of restaurants in Ansan. Many people seemed to know one another. Customers did not merely go to the restaurant to eat and leave. They stayed and chatted for hours on end. Even though I was a complete stranger to them, the restaurant staff and owners came over to my table to strike up conversation. I'm not going to lie, some questions felt a little intrusive (especially when I visited with my partner). But it is so typically Indonesian.
How to Get to Ansan Multicultural Food Street
Ansan is located in Gyeonggi Province. Thankfully, Ansan is easily accessible by Seoul's Subway system. We can reach it easily by subway (Line 4)!
Ansan Multicultural Food Street (안산다문화음식거리)

Address:   788-22 Wongok-dong, Danwon-gu, Ansan-si, Gyeonggi-do
Korean Address:  경기 안산시 단원구 원곡동  870
Other Attractions Nearby
Oido
After getting my tummy filled in Ansan, I went to Oido to enjoy the beach. It took me a long time to get to the Ansan area, so I did not want to return to Seoul right away.
Oido is convenient side-trip if you are going to Ansan as it's reachable by subway and bus. There are a lot of cafes beside the sea where you can enjoy the view! The beach is not a sandy beach but if the tide is high, and there are some spots where you can play in the water. Oido is also famous for its reddish-pink lighthouse and stunning sunsets!
Daebu-do
Another place I have been to near Ansan is Daebu-do. If you drive a car, to Ansan, this little island makes for a great side trip. Unfortunately, it is pretty difficult to access by public transport. There is a bus on Daebu-do, but the hours are very limited, so I wouldn't recommend it. But, if you have a car the inconveniences are negated. There are a lot of pretty cafes and even campgrounds on the small island if you want to stay for an overnight advenure.
Sihwa Sea Walls
Another option is Sihwa Sea Walls, which is a rest area between Oido and Daebu-do. The parking lots are crowded on weekends, but that won't be a problem if you come by bus! You can enjoy the sea and even feed some (vicious) seagulls here.
If you want to try Indonesian food in Seoul, Click Here to learn about one of our favorites. Bakso Rindu Kampung is a restaurant in Itaewon serving up Halal Indonesian dishes.