3 hours from seoul, Gangneung is becoming the hottest spot for a weekend getaway among Koreans. In this article, i will introduce you to Gyeongpo also known as Gangneung, what to do there and how to plan your trip.
What is Gangneung?
Gangneung is a province in the east coast of South Korea.
Gangneung (강릉), the largest city on the Gangwon-do coast, hosted many events of the 2018 Winter Olympics including figure and speed skating, ice hockey and curling.
What to do in Gangneung?
Gyeongpoho Lake
Gyeongpoho Lake is a popular attraction, with beautiful natural scenery and many cultural relics nearby. The view of the moon reflecting off the lake from Gyeongpodae Pavilion is especially stunning. The 1,256,204 m² naturally formed lake is connected to the ocean, and is famous as a destination site for migratory birds in winter. There are also many fish in the lake, but the lake has been designated as a nature protection site and fishing is prohibited.
Geyongpo Beach
Located 1 kilometer away from Gyeongpodae Pavilion and 6 kilometers from downtown Gangneung, Gyeongpo Beach is a sand bank formed between Gyeongpoho Lake and the ocean. This beach has a beautiful sandy shore that extends to a length of 1.8 kilometers and shallow waters, making it a popular beach attraction. By the beach is a lush pine forest where visitors can enjoy forest bathing. Other activities to enjoy around the area include the cultural art fair that takes place at the beach stage every summer, riding a bike along Gyeongpoho Lake, and hiking the nearby mountains and valleys.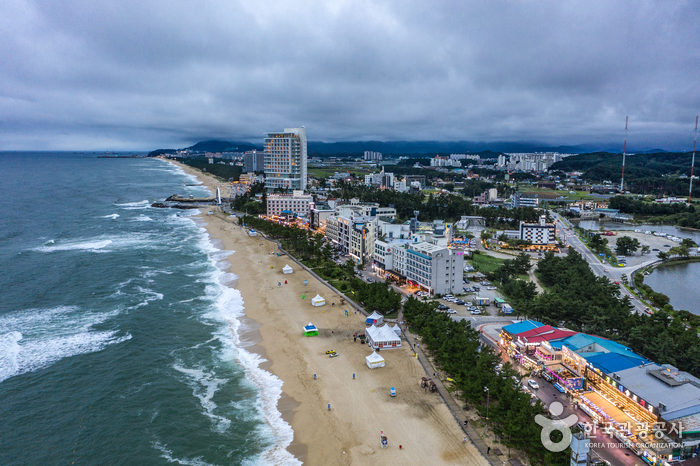 The latest craze is this hotel with an infinity pool that has been all over instagram and tiktok:
This pool is located at the top of the Skybay Hotel, it providesa panoramic view on gangeung city as well as of course the Beach~ Although quite pricy, the place is still a hit to enjoy your experience to the fullest.
Surfyy Beach
Surf lovers you have been served! If you're looking to get your surf on in Korea, head to Surfyy Beach which is ONLY for surfers. It's near Hajodae Beach. You can add this to your bucket list and learn how to surf. Whether you have experience or not, there are teachers and surf. Get out there.
BTS fans must stop
Brace yourselves, according to the KoreanHerald the city of Gangneung in Gangwon Province has set up a replica of a bus stop featured on the cover of BTS' full-length album "You Never Walk Alone."
The new bus stop will not function as an actual stop for local buses, according to the Gangneung city government. It will instead serve as a photo spot for BTS fans and tourists.
The beach has become a popular tourist attraction since it appeared in the popular tvN series "Guardian: The Lonely and Great God," which aired from December 2016 to January 2017.
How to get to Gangneung?
Most people take the bus into Gangneung, since it is the fastest and most economical way to travel into the city. You can take a bus from the Dong Seoul Bus Terminal (take Seoul subway line 2, exit 4) daily from 6:30am to 11pm. It takes about 3 hours and buses run every 30 to 50 minutes.
OR you can take the KTX which is the fastest. As seen before on the map, a line has opened in time to connect Seoul to the 2018 Winter Olympic venues in Pyeongchang. The line officially started service in December 2017, and you can search trains & book tickets online here
Read more