몰래산타(Secret Santa) is a Heartwarming Christmas Project that is hold in South Korea.
From 2006, during Christmas day 1,004 volunteers with the help of sponsor brands and donations gather together in order to hand out gifts to children. Hence, making this day a happy and meaningful day for them.
Introduction
christmas in south korea
Even if Christmas is not as important as 설날 (Seollal) or 추석 (Chuseok), it is also a national holiday. Especially, since there is a lot of Christians.
Christmas is also known as 성탄절. 성, is the Chinese character that means 'Holy', while 탄 means 'Birth'. Collectively, its meaning is: "The day a saint was born."
Maybe Christmas is not celebrated as we do in the western countries, but they do have their own way of doing it. Therefore, we will introduce you a heartwarming Christmas Project that is hold in South Korea.
christian religion in south korea
The first Christian missionary to set foot in Korea was K.F.A. Getzlaff from Prussia Fritz. After exploring the west in 1832, he brought the Chinese bible to Koreans.
However, koreans think of Robert Thomas as the first one. This is because in 1866, the englishman, while he was heading to Pyongyang, was killed by a korean soldier on the Taedong River. In the wake of this incident, Korean Christianity considers Thomas the first martyr in Korea.
Even so, it was until the end of the Second World war when a higher number of koreans started to practice christian religion.

What is 몰래산타?
While this project is commonly known as 몰래 산타 (Secret Santa), 1004 (천사) 명의 산타 (1,004 Angelic Santas) is its real name. As its name gives the hint, 1,004 volunteers follow the mission of Santa Claus, by delivering happiness to children on Christmas Day.
These 1,004 volunteers visit around 1,045 kids to give them gifts. In addition, they hold public events to give gifts and spend a pleasant evening together.
Also, regardless of their religion, they visit orphanages and elders whom live alone to grant them a proper dinner along with gifts.
Volunteers attend a Santa School
Volunteers have to attend a school on how to act like Santa Claus, for two days. In this school, they teach them how to interact with children, and they discuss on the activities they plan to during Christmas Eve. Also, they learn various choreographies, songs, magic tricks and even how to laugh like Santa.
Indeed, it is an event that takes months to prepare, which is why it is so meaningful to many. And the best thing, is that anyone above 19 can participate. Even if you are a foreigner, you will be able to be part of this event just by enrolling through their facebook page.
How did it go during 2020's pandemic?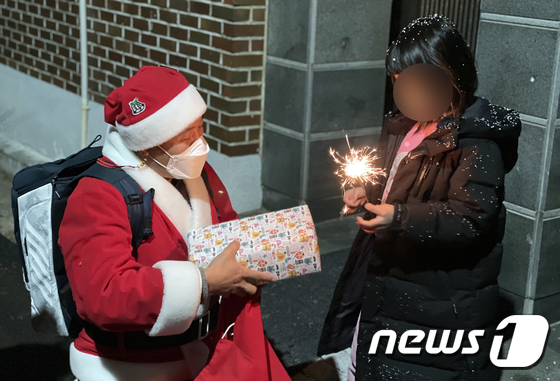 Although the pandemic seemed to be a big obstacle for this project, the volunteers did not give up! With the motivation of making the kids happy, they looked for a way to carry out their plan safely. And to achieve this, social media played an important role.
For example, the training on how to act like santa, was online. So as most of the meetings. In the few offline meetings, they kept the social distancing and wore mask as seen in the next video.
In addition, they did a Youtube Livestream to show the gift boxes they prepared with their sponsors' products. That shows us how transparent is their work.
Usually this project is carried out in a different way, take as an example the event for 2019. On december 24, the volunteers gathered to deliver gifts to the underprivileged children throughout Seoul. They even had a representative song to cheer themselves up, which was 'To You' (그대에게) from Shin Hae-Chul (신해철).
While this year, there was no massive gathering, and they only delivered the gifts in small groups, respecting the social distancing.
Conclusion
It is always nice to see charity work, but this one was indeed meaningful. Especially due to the fact that even with many obstacles ahead, such as COVID, the will to bring happiness to kids was not lost. Thanks to this, we can see that year 2020 was not only tragedy, but also had heartwarming moments just like this one.
Just looking at the kids' faces, you could notice the joy that this event brings to them. Perhaps there are kids eagerly waiting for this day to see Santa, and the fact that they did not break these kids illusions it is amazing.
몰래산타 ㅡ It is a heartwarming Christmas Project in South Korea that you might want to experience someday!

Also, don't forget to visit my profile to continue reading interesting posts about South Korea! Click here