I did it all – I read countless articles, stories, and blogs. I watched videos, vlogs, and documentaries. But still – when I got to the country, there were at least 8 cultural shocks in Korea waiting for me. No matter how much you prepare, you can always find something that surprises you while living in a foreign country.
Metal Chopsticks
So, over the years I've eaten with chopsticks numerous times, but one thing that I found very shocking was the metal chopsticks. These are called Jeotgarak and they are flatter and more square in shape than typical chopsticks you find around the world. They are kind of heavy and more difficult to use but – that's Korean culture; hard work. Even while eating.
Historically speaking, ancient royal Koreans used silver or gold chopsticks which helped to detect poison in food. Of course, people want to mimic the royals, so every citizen began using metal chopsticks too. So you won't find any home or a restaurant that doesn't use Jeotgarak and Surgarak, spoons and chopsticks, made of metal.
Holding Hands
It is a little weird in America and other European countries to see people of the same gender holding hands. I, as a Pakistani, was also surprised too! It is pretty common to see Koreans walking around hand in hand regardless of gender.
This is common, especially among women and grandpas. You will often find girls hand in hand walking down the street. This gesture simply shows love and compassion for one another, without any indication of sexual attraction. It was very heartwarming to see expressions of platonic love this way among people.
You can see this compassion everywhere, even at tourist spots in Korea.
Eating Family Style
As if expressing love through holding hands wasn't enough, I realized one of the biggest cultural shocks in Korea for me was people sharing food from the same dish. I have been to several countries and have never come across such a thing. This is so common that it is actually difficult to find a Korean-style restaurant where you are allowed to eat alone.
Free WiFi For All
I realized in Korea, free WiFi is available everywhere – even in kind of ridiculous places. Be it the subway, a restaurant, public restrooms, a park, a mall – even on the tops of mountains! Free U+Zone, T Wifi Zone, and KT Free WiFi are the services provided in Korea by cell phone carriers. All you have to do is turn on your WiFi and look through the list of connections and choose one of the options.
There is no password of course but sometimes you have to give a little personal information such as your email in order to access these WiFi services. Besides that, you can also watch a 60 second ad to gain access. Trust me, it's worth it! You'll have access to the WiFi all day long or several hours after you connect. Shocking, isn't it? 
Haram Practices
Being from a Muslim majority country, cultural values are a lot different in Korea than what I am used to. So, something that shocked me was the extent of Koreans' love for alcohol and pork.
Both alcohol and pork are forbidden back home according to religion, so it was difficult for me to adjust here. Eating pork belly and drinking soju are standard parts of social life that I wasn't able to partake in. But, with a bit of effort, you can find lots of delicious Halal food in Korea.
Click Here to read about 5 Halal restaurants in Seoul
Obsession With Beauty
The Korean fashion and entertainment industry is world-renowned. But the sad part is, the country is getting more and more obsessed with appearance. As a result, it is difficult to come across someone under 40 who hasn't had at least minor plastic surgeries. Also, the age at which people start getting surgeries is getting younger with each passing year.
What was most shocking is when I came across parents who were encouraging and enthusiastically paying for their children to get surgery to fit beauty ideals.
Cafes Everywhere
Of cultural shocks in Korea, one of the biggest for me was the abundance of cafes. You'd think Koreans love coffee?! But no!
The real reason behind the ridiculous number of cafes lining the streets is that the young generation typically lives with their parents until they get married just like in Indian and Pakistani cultures. So, to meet their friends and take some time to be alone, they spend their day at the cafes.
No Holding Doors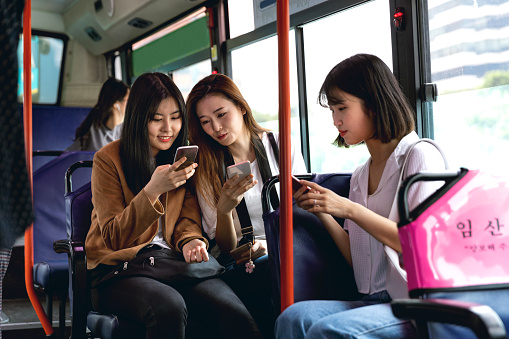 When I first came to Korea, I found this aspect of Korean culture to be extremely rude. In most countries, if people are passing through a door while another person is coming, they will take a moment to hold the door open for them. Otherwise, the door would slam in their face.
Well, in Korea, it is not even considered the 'r' in rude. I learned that since everyone is in "Pali Pali" (hurry hurry) mode, people don't care to 'waste' their 2 seconds in doing little compassionate things for others. 
Korea taught me that time is money! You'll see Koreans very commonly bump into each other and then hurry on their way. No one stops to apologize as everyone's in a rush.
Want to gain more fun insights into South Korean culture? Click Here to read about 14 Korean superstitions.